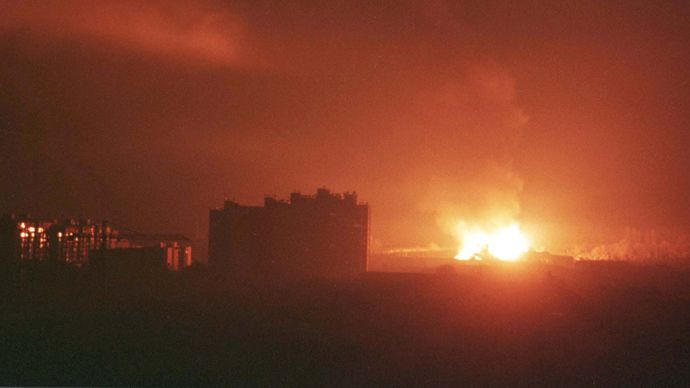 An explosion followed by a huge fire rages in the south-west part of Pristina in the early hours March 25, 1999 after NATO forces launched a missile attack against Yugoslavia, Reuters. Exactly 15 years ago, on March 24, NATO began its 78-day bombing of Yugoslavia. The alliance bypassed the UN under a "humanitarian" pretext, launching aggression that claimed hundreds of civilian lives and caused a much larger catastrophe than it averted, rt.com reports.
Years on, Serbia still bears deep scars of the NATO bombings which, as the alliance put it, were aimed at "preventing instability spreading" in Kosovo. Questions remain on the very legality of the offense, which caused casualties and mass destruction in the Balkan republic.
Codenamed 'Operation Allied Force,' it was the largest attack ever undertaken by the alliance. It was also the first time that NATO used military force without the approval of the UN Security Council and against a sovereign nation that did not pose a real threat to any member of the alliance.
NATO demonstrated in 1999 that it can do whatever it wants under the guise of "humanitarian intervention," "war on terror," or "preventive war" – something that everyone has witnessed in subsequent years in different parts of the globe.
Nineteen NATO member states participated to some degree in the military campaign against the Federal Republic of Yugoslavia (Serbia and Montenegro), which lasted for 11 weeks until June 10, 1999.
More rubble, less trouble
In the course of the campaign, NATO launched 2,300 missiles at 990 targets and dropped 14,000 bombs, including depleted uranium bombs and cluster munitions (unexploded cluster bombs continued to pose a threat to people long after the campaign was over.) Over 2,000 civilians were killed, including 88 children, and thousands more were injured. Over 200,000 ethnic Serbs were forced to leave their homeland in Kosovo.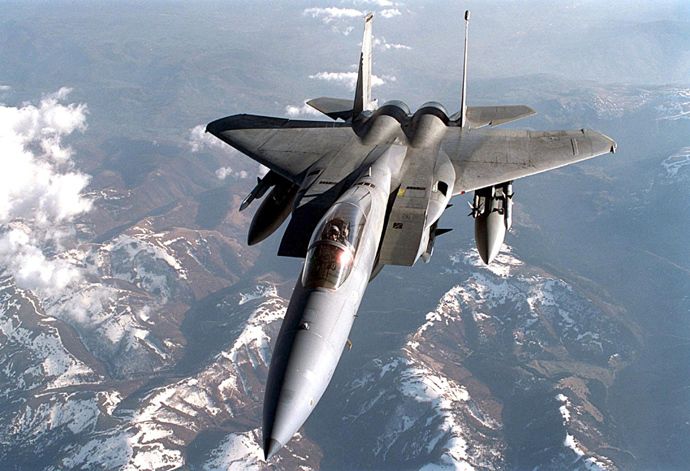 A US F-15C Eagle flies a mission over Yugoslavia 08 April 1999 (AFP Photo)In what the alliance described as "collateral damage," its airstrikes destroyed more than 300 schools, libraries, and over 20 hospitals. At least 40,000 homes were either completely eliminated or damaged and about 90 historic and architectural monuments were ruined. That is not to mention the long-term harm caused to the region's ecology and, therefore, people's health, as well as the billion-dollar economic damage.
News correspondents Anissa Naouai and Jelena Milincic, the authors of RT's documentary 'Zashto?' – which means "Why?" in English –traveled through former Yugoslavia to Belgrade, Kosovo, and Montenegro and spoke to people who endured the atrocities and horrors of the war and lost their friends and relatives.
"There is a bridge near the city of Nis, which was bombed at the time when a passenger train was passing through it," Milincic recalls.The tragedy on April 12, 1999 killed 15 people and wounded 44 others, while many passengers were never accounted for.
"We felt the blast and saw flames under the locomotive. The train was blown so powerfully, half a meter from the ground. I don't know how we stayed on the rails," recalled witness Boban Kostic.
"Our colleague got off the train when I did," he said. "He was really scared. But another rocket hit and blew him to pieces," added another witness, Goran Mikic.
"Why? Why civilians? Why a train?" said Dragan Ciric. "It still torments me, if the first rocket was a mistake, what were the next three for?" he told RT.
The Chinese embassy in the Yugoslav capital of Belgrade was also hit and set on fire by NATO airstrikes on May 7, 1999. Three citizens of the country were killed. The alliance called the attack "a mistake." China is a permanent member of the UN Security Council and, along with Russia, did not support a military solution for the Kosovo crisis.
Prior to the military assault, the Milosevic regime was accused of "excessive and disproportionate use of force in Kosovo." But was the force that NATO used when bombing the sovereign state's territory proportionate and restrained? Rights organization Amnesty International accused the allied forces of committing war crimes.
"Indications are that NATO did not always meet its legal obligations in selecting targets and in choosing means and methods of attack, On the basis of available evidence, including NATO's own statements and accounts of specific incidents, Amnesty International believes that - whatever their intentions - NATO forces did commit serious violations of the laws of war leading in a number of cases to the unlawful killings of civilians," the rights watchdog said in a report published in June 2000.
The alliance dismissed the accusations, saying that cases involving civilian deaths were due to technological failure or were simply "accidents of conflict." NATO failed to say that they were due to the alliance's own failure to take all necessary precautions.
"We never said we would avoid casualties. It would be foolhardy to say that, as no military operation in history has been perfect," said Jamie Shea, NATO's chief spokesman, the Guardian reported at the time.
Bombing background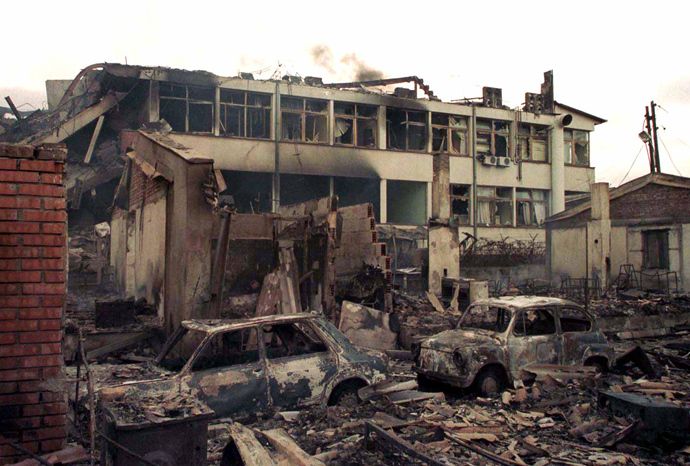 Smoke rises over the local red cross office destroyed in last night's NATO air strike on centre of Kosovo's capital Pristina March 29, 1999 (Reuters)Former NATO Secretary General Javier Solana ordered military action against Yugoslavia following a failure in negotiations on the Kosovo crisis in France's Rambouillet and Paris in February and March 1999.
NATO's decision was officially announced after talks between international mediators – known as the Contact Group – the Yugoslav government, and the delegation of Kosovo Albanians ended in a deadlock. Belgrade refused to allow foreign military presence on its territory while Albanians accepted the proposal.
Back then, Slobodan Milosevic's forces were engaged in armed conflict with an Albanian rebel group, the Kosovo Liberation Army (KLA), which sought the province's separation from Yugoslavia. Former US President Bill Clinton's special envoy to the Balkans, Robert Gelbard, had earlier described the KLA as "without any questions, a terrorist group." (The KLA was later repeatedly accused of being involved in the organ trafficking of Serbs in the late 1990s.)
However, despite not announcing the link officially, NATO entered the conflict on the side of the KLA, accusing Serbian security forces of atrocities and "ethnic cleansing" against ethnic Albanians in Kosovo. The main objective of the campaign was to make Milosevic's forces pull out of the province. The fact that there was violence on both sides of the confrontation was ignored both by allied governments and Western media – which stirred up public anger by focusing only on Serbs' atrocities and being far less vocal regarding abuses by Albanians.
"All efforts to achieve a negotiated political solution to the Kosovo crisis having failed, no alternative is open but to take military action," Solana said on March 23, 1999. "We must halt the violence and bring an end to the humanitarian catastrophe now unfolding in Kosovo."
March 24 2014, 18:48