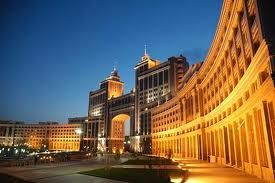 Kazakhstan's national oil and gas company KazMunaiGas (KMG), plans to create six joint ventures with foreign companies, managing director of KMG JSC for business support, Serik Keulimzhayev said on March 18, trend.az reports.
"KazMunaiGas specialists are carrying out work on creating six joint ventures with leading international companies, Keulimzhayev said while speaking at the third annual conference 'Kazneftegazservis - 2014'.
These ventures will produce engineering products to meet the needs of the oil and gas industry, according to the managing director.
There is a need for the manufacture of pumps, shut-off and wellhead valves and instruments according to Keulimzhayev.
As of 2013, the volume of purchases by the national company amounted to 1,259,000,000,000 tenge ($1= 182 tenge) which is nine percent more than in 2012, according to KMG managing director.
March 20 2014, 13:22