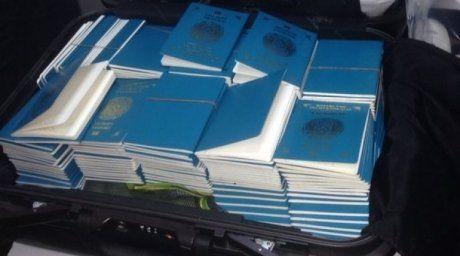 ©National Security Committee of KazakhstanNearly 300 blank Kazakhstan passports have been seized from two Chinese nationals at the border in Almaty airport, tengrinews reports citing the Border Police of Kazakhstan.

"Officers of Almaty border checkpoint discovered and seized 291 blank national passports of Kazakhstan in the carry-on luggage of two Hong Kong residents during checkin to KC-929 Almaty-Hong Kong flight. 250 of the blank passports had blue cover and 40 were maroon. One of the maroon passports contained a photograph and identification data," the police reported.

A roll of holographic tape used in making of Kazakhstan passports was also seized from the two Chinese nationals.

"Based on the Article 185 of the Criminal Code of Kazakhstan, the case materials were sent to the Almaty Department of the National Security Committee," the police said added.

According to the board officers it was the first time they had a case involving smuggling of such unusual items in their practice.

Blank Kazakhstan passports are not available anywhere on the open market and their release can only be authorised by the competent Kazakhstan authority. So the origin of this batch is a mystery.
March 19 2014, 15:53