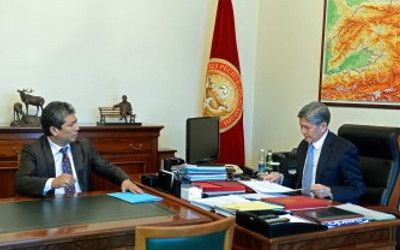 President of Kyrgyzstan Almazbek Atambayev received today Chief of the President's Administration Daniyar Narymbayev who submitted an official letter of the leader of the parliamentary majority coalition "Yrys Aldy Yntymak", Felix Kulov, about the loss of its parliamentary majority status, the press service of the President reported, akipress reports.
The parliamentary majority coalition ceased its activities due to withdrawal of the Ata Meken faction.
In accordance with the Constitution and law on the Government of Kyrgyzstan, the President signed a decree on resignation of the Government.
Thus, the Government – formed in accordance with the agreements between factions of SDPK, Ar-Namys and Ata Meken on 3 September 2012 – is deemed resigned.
The decree supposes the persons occupying positions of prime minister, first vice prime minister, vice prime ministers and members of the government will continue to execute their duties until full formation of a new government.
The decree enters into force upon signature.
March 19 2014, 12:41