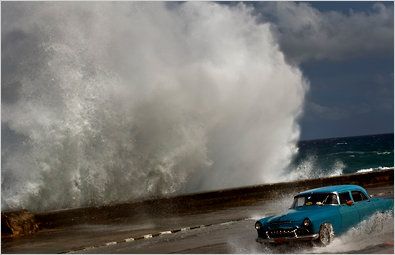 Hurricane Sandy formed late in the 2012 hurricane season. It arrived in the Caribbean as a tropical storm, and reached hurricane status on Oct. 24 as it hit Jamaica, Haiti and Cuba, leaving at least 21 dead as it accelerated to Category 2 strength.
On Oct. 26 it tore through the Bahamas with 100 mile an hour winds. Even as slowed to Category 1 as it headed toward Florida, much of the East Coast was bracing for its arrival, forecasters focused on the increasingly likely possibility that it would merge with a storm already headed toward the coast from the west.
Meteorologists warned that the combination could produce high winds, heavy rains and storm surges that would cause extensive damage. The National Weather Service labeled the possible outcome a "Frankenstorm,'' even as it cautioned that forecasting is an imprecise science, and that the storm could weaken and that there was a slight possibility that it could head out to sea.
But weather officials clearly wanted the area to be prepared for the worst. Drawing comparisons to the so-called Perfect Storm of 1991,they warned that the mix could cause mayhem, with downed power lines, flooding and high winds, from the Carolinas to New England and as far inland as Ohio. Some areas may be forced to cancel Halloween plans.
"If it actually hits at the kind of intensity it might across central to northern New Jersey, that would be a potential worst-case scenario for New York City," said Paul Kocin, a meteorologist for the National Oceanic and Atmospheric Administration. "That would maximize coastal flooding and winds for New York. The flooding could be of a level that would be rarely ever seen."
New York City activated its coastal storm plan on Oct. 25, saying that some residents should prepare to evacuate.
nytimes.com
October 27 2012, 18:02