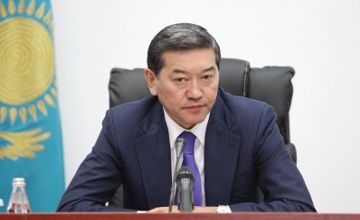 PM Serik AkhmetovKazakh Prime Minister Serik Akhmetov has held a Government session, which approved the parameters of the national budget for 2014, considered the draft comprehensive plan on combating the shadow economy for 2014-2015, and discussed the progress of preparation of the regions for the flood season, inform.kz reports.
To ensure timely implementation of the President's instructions the Government of Kazakhstan approved the parameters of the refined national budget for 2014 in light of the adjusted macroeconomic indicators for the current year, the primeminister.kz reports.
"Thus, budget revenues for 2014 are to be 6 trillion 206 billion tenge, or 432.4 billion tenge more than was approved earlier (5 trillion 773 billion tenge)," Minister of Economy and Budget Planning Yerbolat Dossayev said.
Budget revenues (without transfers) were revised up to a 331.7 billion tenge increase from the approved plan of 4 trillion 29 billion and amount to 4 trillion 361 billion tenge.
Previously projected growth of the country's GDP for the current year will remain at 6 percent. The nominal GDP in 2014 will amount to 39 trillion 623 billion tenge, which is by 999.3 billion tenge more than it was approved in August, Yerbolat Dossayev noted.
Then, Minister Dossayev presented that draft comprehensive plan on combating the shadow economy for 2014-2015.
"In general, the plan consists of 60 measures. In 2014-2015, the fight against the shadow economy includes the implementation of system-wide measures as well as measures to reduce the shadow production," he said.
He noted that the system-wide measures would be aimed at combating fiscal evasion, developing cashless payments, effective management of public finance, improving the business environment and improving the assessment of the shadow economy taking into account the international experience.
Following the discussion the Prime Minister stressed that "the fight against the shadow economy is important for any developing country, especially since we have a serious purpose - to enter the thirty developed countries." Akhmetov instructed the competent authorities to finalize the comprehensive plan and submit it to the Government before March 13 this year.
Minister of Emergencies Vladimir Bozhko delivered his report on preparing regions to flood season.
According to him, there were built 87 km of new dams, 119 km of existing dams were strengthened and repaired, dredging works were held on 92.5 km. Reserves of fuel amount to 37 tons, aggregates - 200 thousand tons, and explosives - 104 tons.
"4.5 thousand people and more than 800 units of equipment consisting of two regiments of civil defense, rescue teams, Emergency Medicine Center are on high alert," Bozhko said.
The Prime Minister instructed the local executive authorities to "keep the issues of citizens protection from natural disasters under special control."
March 12 2014, 09:49