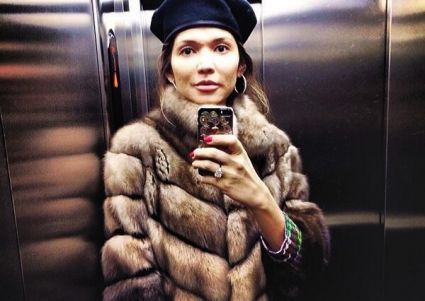 Gulnara Karimova in Tashkent in February 2014 © twitter.com/FreeGuliDomThe Uzbek president's older daughter has been under house arrest for almost two weeks without any way to communicate with the outside world and without any medical attention after having been beaten, uznews.net reports, citing their source in Tashkent.

41-year old Gulnara Karimova and her 15-year old daughter Iman have been under house arrest since February 17, a source close to the Uzbek law enforcement told Uznews.net.

According to him, about ten members of the country's secret services (SNB) are keeping guard over Karimova and her daughter.

During their two-week imprisonment US embassy representatives have twice visited them, as Iman Karimova-Maksudi is an American citizen. There has not yet been any promise of specific help.

Raid as a response

The Uznews.net source revealed the details of the February 17 raid, when law enforcement stormed Karimova's flat in Tashkent where she lived with her daughter, her boyfriend Rustam Madumarov, and several other people close to her.

According to the Uznews.net source, Gulnara Karimova passed on a letter to her father, Islam Karimov, the day before the raid, on February 16, which included a medical report by Israeli doctors whom she had invited to Tashkent.

The medics ascertained that she needs an operation and recommended that she go to Israel for treatment.

In the letter to her father Karimova sought permission to leave the country, as she mistrusts the quality of health care in Uzbekistan.

The source reports that due to her conflicts with many influential people in Uzbekistan, she was fearing being killed or injured during the surgery.

The following day, instead of her father's response, a group of 20-30 armed people in masks led by the head of Presidential Security Services Muijon Tokhiriy stormed into her apartment.

They entered the apartment by lowering themselves onto the balcony of her flat from the roof and breaking down all the doors that were in their way.

Rustam Madumarov was beaten right away, while the rest of the people present, including elderly and children, were asked to lie face down on the floor, says the source. Iman was in bed when the raid began but was pushed off onto the floor.

Gulnara Karimova tried to defend herself and demanded to see a search warrant and a warrant for arrest. She was told that, if need be, weapons and drugs could be "discovered" in her apartment.

She continued her resistance and Muijon Tokhiriy slapped her on her face.

Consequently, all of Karimova's close associates – Rustam Madumarov, Gayane Avakyan, Ekaterina Klyueva with her one-and-a-half-year old daughter and elderly mother –, and household personnel were arrested.

Karimova and her daughter Iman stayed in the flat from where they managed to escape and reach a friend's house in Tashkent.

However, they were found several hours later. The Uznews.net source says that the Presidential Security Services searched for them in every building in the neighborhood until they found where they were hiding.

It was there, according to the source, that Muijon Tokhiriy and Nodyr Valiev started beating Gulnara Karimova.

Karimova and her daughter were then taken back to their flat in Tashkent and had all of their telecommunication gadgets confiscated. They were denied food for the first 24 hours and refused a call for a doctor for Iman, who has heart problems.

According to the source, Karimova's associates, who were arrested during the raid, have been held at the SNB's isolation rooms in Tashkent.

Ekaterina Klyueva's one- and-a-half year old daughter also spent two days under arrest.

She and her mother were placed under house arrest after that.

"Fair punishment"

The prosecutor general's office reported on the February 17 arrests of Madumarov, Avakyan, and Klyueva in connection with economic crimes. Later, the prosecutor's website released the additional information that actually ten people had been arrested.

The Uzbek media has not reported a single word about the president's daughter.

Several online news sources have published articles, which appear to have been written by the SNB apparatchiks, talking about Gulnara Karimova's corrupt business practices, money laundering, and taking out large sums of money from the country.

Today's troubles, as many of these articles conclude, are only the logical consequence of her actions.

They all deny that there is a power split in the country.
March 5 2014, 10:20