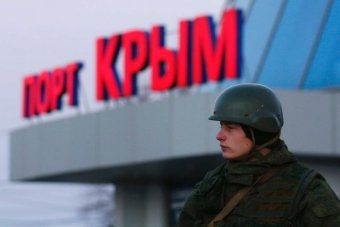 Russia's Black Sea fleet has denied that it issued Ukrainian naval forces in Crimea with an ultimatum to surrender or face full-scale military assault, abc.net reports.
The Interfax news agency quoted a source in Ukraine's defence ministry as saying the fleet told Ukrainian forces in Crimea to surrender by 5am Tuesday local time (2pm AEDT).
If they did not surrender, troops were told a "real assault will be started against units and divisions of the armed forces across Crimea", the source said.
The ultimatum, Interfax said, was issued by Alexander Vitko, the fleet's commander.
The claim was later dismissed by an unnamed representative at the fleet's headquarters who said no assault was planned, adding that the reports were "complete nonsense".
Meanwhile, a Russian former lawmaker loyal to president Vladimir Putin said pro-Russian authorities would cut off water and electricity to Ukrainian soldiers in bases surrounded by Russian forces.
Sergei Markov, who met with pro-Russian authorities in Crimea on Monday (local time), told reporters the soldiers would also be told they would not receive their next pay packet if they did not publicly renounce their loyalty to Ukraine's new provisional government.
"If they stay here and remain loyal to Kiev and the Ukrainian government, it will become more uncomfortable for them," he said.
"The pressure is going to increase tonight."
The developments came as US president Barack Obama accused Moscow of violating international law in its military intervention in Ukraine.
Mr Obama told reporters that Russian president Vladimir Putin should allow international monitors to mediate a deal acceptable to all Ukrainian people.
"Now is the time for [Russia] to consider whether they can serve their interests in a way that resorts to diplomacy as opposed to force," he said.
"Over time this will be a costly proposition for Russia."
US officials said they believed Russia now had complete operational control of Crimea.
March 4 2014, 10:17