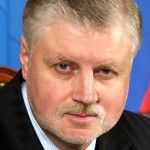 Sergey MironovThe leader of the group Fair Russia, a deputy of the State Duma of Russia Sergey Mironov during his visit to Sevastopol stated that the State Duma of the Russian Federation will consider a bill about accelerated issuing of Russian passports to citizens of CIS, nahnews.com.ua reports.
"Now, I am talking to the deputy Mizulina; at my request she prepared the draft bill about accelerated granting of citizenship of Russia to citizens of Ukraine," Sergey Mironov said.
In this way, he confirmed the words of Vladimir Zhirinovskiy, who recently made a statement about the similar initiative.
Sergey Mironov also noted that the bill will provide the accelerated procedure of obtaining Russian citizenship not only for Russians, but also for all of the inhabitants of CIS countries without exception.
February 28 2014, 16:33