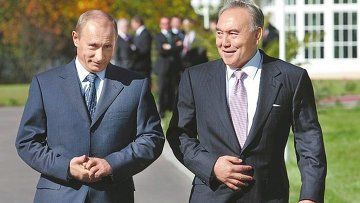 Photo: ria.ruPresident of Kazakhstan Nursultan Nazarbayev and President of the Russian Federation Vladimir Putin discussed over the phone the situation in Ukraine and Olympic Games in Sochi, azh. kz reports citing ria-novosti and Kremlin press service.
"Nursultan Nazarbayev congratulated Vladimir Putin with the successful hosting of the XXII Winter Olympic games in Sochi. The games ended on a very high pitch - both in organizational and athletic aspects"- reads the statement.
On February 22, the Ukraine's parliament has approved a resolution on the resignation of President Viktor Yanukovych. A total of 328 deputies have noted for the parliament's resolution. The resolution, which envisages holding presidential elections on May 25, 2014, will come into effect since the parliament has approved the resolution.
February 25 2014, 10:40