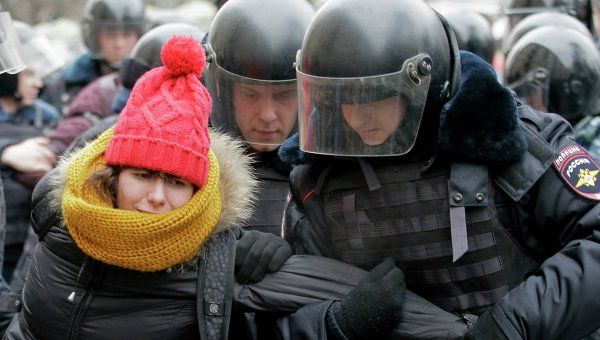 Some 500 Detained at Unauthorized Rallies in RussiaPolice said that about 500 people were detained Monday in Moscow and St Petersburg at unauthorized rallies reportedly in protest at the imprisonment of seven opposition activists, ria.ru reports.
A spokesman for the Moscow police department said 420 people were detained during a rally in downtown Moscow, which it said had been attended by some 500 people in total.
The event had not been approved by Moscow City Hall and thus violated the law on public gatherings, a police spokesman earlier told RIA Novosti.
Those detained "were continuing their illegal actions despite police demands to stop," the spokesman said, adding that they face misdemeanor charges.
Sixty people were detained at a similar rally in St. Petersburg, which, according to city police, gathered about 100 activists.
Media reports said the demonstrators gathered to show support for a group of seven activists sentenced earlier that day to up to four years in prison for involvement in an anti-Kremlin rally on Bolotnaya Square in Moscow that ended in violent clashes with police in May 2012.
February 25 2014, 09:32