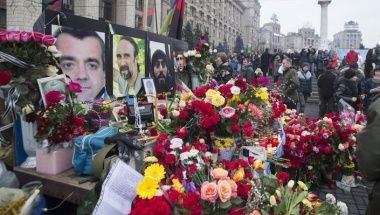 Special envoy for the Ukrainian Interior Ministry Arsen Avakov said on Facebook Monday that ousted president Viktor Yanukovish has been placed on a wanted list, rapsinews.com reports.
"A criminal case on mass murder of civilans has been initiated. Yanukovich and a number of other officials have been put on a wanted list," Avakov wrote on Monday.
Ukraine's parliament voted Saturday to impeach President Viktor Yanukovych following months of anti-government protests that originally flared up in November when the government took a step back from closer EU ties in favor of strengthened cooperation with Russia. Nearly 100 people were killed last week in clashes between protesters and the police.
Ukrainian Security Service has no information on the current whereabouts of president Viktor Yanukovich, and does not confirm reports of his detainment in Crimea, Ukrinform agency reports on Monday.
Yanukovych, who fled the capital, called the move a coup and compared it to the rise of the Nazis to power in Germany in the 1930s. Fighting between protestors and police last week claimed around 100 lives.
February 24 2014, 17:06