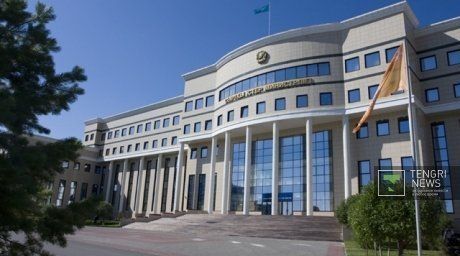 Kazakhstan's Foreign Ministry. ©tengrinews.kzKazakhstan's Foreign Ministry will ask the Russian Foreign Ministry to offer official comments on the recent suggestion by a prominent Russian politician Eduard Limonov made on his Facebook, Zhanbolat Ussenov, the Foreign Ministry's spokesman, said.

In his Facebook post, the politician advises the Russia's Kremlin to consider annexing north regions of Kazakhstan after President Nursultan Nazarbayev steps down. "Two largest post-soviet republics, namely Ukraine and Kazakhstan are living through a tough time (…) Kazakhstan has undergone an unpleasant currency devaluation (…) I am happy about what is going on in these two states. I hope Russia will get hold of some part of Ukraine if we don't waste time. And will get hold of northern regions of Kazakhstan as well. We can have traditionally Russian cities [in these two states] back in [the post-Nazarbayev] transit period in Kazakhstan", Mr. Limonov wrote.

Kazakhstan's Foreign Ministry believes such statements of a prominent public figure are not acceptable. "We know what goals Mr. Limonov was pursuing when posting that (…) such posts question his mental state. Sovereignty and territorial integrity of Kazakhstan are inviolable. We won't tolerate any trespasses", Mr. Ussenov said.

The Foreign Ministry has decided to send a note to the Russia's Foreign Ministry, requesting them to offer official comments on the statement. "Russia is Kazakhstan's friend, ally and strategic partner. The absurd statement by Mr. Limonov cannot have anything to do with Russia's foreign policy with regards to Kazakhstan. We have no doubts our Russian partners will voice right estimate of the statement", he said.
tengrinews.kz

For more information see:http://en.tengrinews.kz/politics_sub/Kazakhstans-Foreign-Ministry-to-send-a-note-to-Russia-26193/
Use of the Tengrinews English materials must be accompanied by a hyperlink to en.Tengrinews.kz
February 21 2014, 17:04