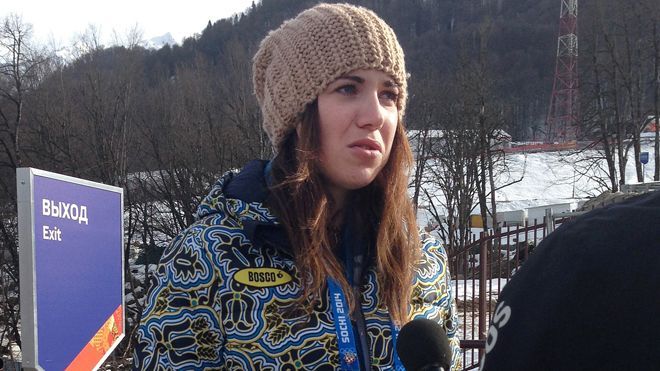 Alpine skier Bogdana Matsotska from Ukraine leaves Sochil Games in support of protesters back home.Two members of Ukraine's Olympics team decided on Thursday to pull out of the Sochi Winter Games in support of demonstrators back home after widespread anti-government protests left dozens dead and hundreds injured, reuters reports.
Alpine skier Bogdana Matsotska and her coach and father Oleg Matsotskyy said they had withdrawn in protest at Ukraine President Viktor Yanukovich and his government.
"I have decided not to take part in the slalom, my favorite discipline (on Friday), because of the horrible events that are happening in the capital of my Ukraine, in the Maidan (square)," the 24-year-old Matsotska told Reuters Television.
"My friends are there at the Maidan, people I know, close friends of mine. To go on the start line when people are dying and when the authorities broke the main rule of the Olympic competition, which is peace - I simply cannot do it."
The fighting in Ukraine has left at least 50 people dead and hundreds more injured in anti-government protests and clashes with security forces.
Ukraine team officials and some athletes held a minute's silence in memory of the victims. Black ribbons were added to Ukraine flags hanging on the balconies of their building in the athletes' village.
"I am not a political person, I am totally out of politics and political parties, but I stand against these horrible actions that Yanukovich and his government are taking against our Ukrainian people," Matsotska said.
"I don't want to enter the competition under such terrible circumstances." Matsotska competed in the super-G and the giant slalom events, finishing 27th and 43th respectively.
International Olympic Committee spokesman Mark Adams said the withdrawals were a matter for the Ukrainian team.
"I believe some of them have decided to return home and (Ukraine Olympic Committee president) Sergey Bubka has said he absolutely respects every individual's right to make their own decision," said IOC spokesman Mark Adams.
"I think his (Bubka's) view was that the team should stay but equally he respects every athlete's decision to do what they think is best in the circumstances.
"I know that the National Olympic Committee themselves think that the best way to show some solidarity, and show in a small way what sport can do to help in reconciliation, is for the team to remain here."
BLACK ARMBANDS
He said it was not the IOC who stopped athletes from wearing black armbands on Wednesday, as they had requested, but that it had been a joint decision with Ukrainian officials.
"They weren't forbidden to wear armbands," Adams said. "The Ukrainian NOC met with IOC officials informally yesterday. They discussed what should be done, and they reached the conclusion there were other ways of marking this moment.
"Some athletes have taken other views and other ways of doing things," Adams said.
Bubka, the former pole vault Olympic champion who is also an IOC executive board member, rejected claims in some media, including Russian, that it was he who had stopped athletes from wearing black armbands.
"As President of the Ukraine NOC, Sergey Bubka has great sympathy with the wishes of Ukraine athletes who want to wear black armbands to mark the current tragic events in Ukraine," he said in an e-mailed statement to Reuters.
"However after consultation with the IOC, it was agreed that such symbolic gestures by athletes would not be in the spirit of the Olympic Charter.
"Therefore both parties agreed that another way of allowing Ukraine athletes to mark their respects should be found.
"The Ukraine Athletes have since marked their respect in other ways such as holding a minute's silence last evening in the Olympic Village, issuing joint statements and giving media interviews."
The country, which has won one bronze medal so far, sent 43 athletes to Sochi.
(Reporting by Karolos Grohmann, Additional reporting by Olga Petrova and Mikhail Antonov in Rosa Khutor, editing by Mitch Phillips/Peter Rutherford/Robert Woodward)
February 21 2014, 15:47