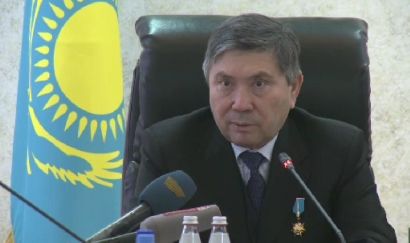 Investments into Karachaganak are fully repaid, - says Uzakbay Karabalin, Oil Minister of Kazakhstan.Investments injected into the development of the Karachaganak oil field in West Kazakhstan Oblast have been fully repaid, said RoK Oil Minister Uzakbay Karabalin during his meeting with subsoil users in Uralsk this week, Minister's website informs.
Next year it is necessary to move to the new scheme of profit sharing, said the Minister, with Kazakhstan getting 80% of the profit.
It is also envisaged to undertake a series of measures aimed at increasing of Kazakhstan content at the project. It is one of the burning issues on the project. Only a limited number of local producers and suppliers participate in the Karachaganak project. This all happens because of lack of transparency in tender processes. The requirements that the investor puts forward are excessively strict. The Minister assured that the Government is working on the measures aimed at resolving of this problem. They are developing a new tender policy. The capabilities of domestic producers will be considered already at the design stage. And the contracts will specify the percentage of local services and products. The Oil Minister said: "We cannot force the contractors to buy Kazakhstan equipment, materials and other items only because it is made in Kazakhstan. They should meet the quality requirements for Karachaganak field, such as high pressures and presence of H2S."
Karachaganak Petroleum Operating B.V. (KPO) is developing one of the world's biggest oil and gas condensate field Karachaganak located in north-west Kazakhstan. The field's area is 280 square kilometers, its reserves are evaluated at over 1.2 billion tons of oil and condensate and over 1.35 trillion cubic meters of gas.

KPO is a joint company of BG Group (29.25 percent), Eni (29.25 percent), Chevron (18 percent), Lukiol (13.5 percent) and KazMunaiGas (10 percent).

According to the PSA, the consortium shall be running the project until 2038.

For more information see:http://en.tengrinews.kz/markets/PSA-conditions-at-Karachaganak-now-favoring-Kazakhstan-26213/?
Use of the Tengrinews English materials must be accompanied by a hyperlink to en.Tengrinews.kz
February 21 2014, 11:36