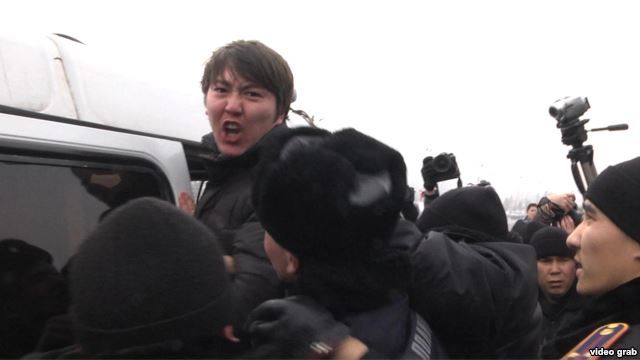 Police detained protest activists in Almaty, Feb 15, 2014 A group of Kazakhstan's activists made an open statement demanding a release of the participants of the unauthorized rally arrested in Almaty on Saturday, interfax-kz reports.
"We demand annulment of the court decisions and release of Adilkhan Yermekov from detention. The law enforcement officers, who used physical violence during arrests in the city central square must be brought to account," according to the statement made by Murat Telibekov, Kanagat Takeyeva, Sergei Duvanov and Dilnara Insenova.
The statement was addressed to the UN High Commissioner for Human Rights Navi Pillay, the Office of the High Commissioner for Human Rights (Switzerland), the European Commissioner for Human Rights, the European Ombudsman and other human rights institutions.
Takeyeva said that the police arrested 37 protesters, most of them faced fines imposed by court. However, several people are still kept in temporary detention. She explained that the statement names only Adilkhan Yermekov, as the names of the other detainees are unknown.
"They put in jail those who dared to openly express their opinion. Judges who made such decisions must annul them, otherwise we will ruin the future of our youth. This way, we force them to become slaves. If it is the case, let them put us all in chains," Takeyeva said at a press conference.
She also reported that a group of activists applied to the Almaty city administration to hold a peaceful rally on March 1. "Let's see what they decide. We will hold the meeting in any place designated by the authorities," said Takeyeva.
On Saturday, 100 people took part in an anti-devaluation rally in Almaty. The most active participants were detained by the police.
February 19 2014, 10:55