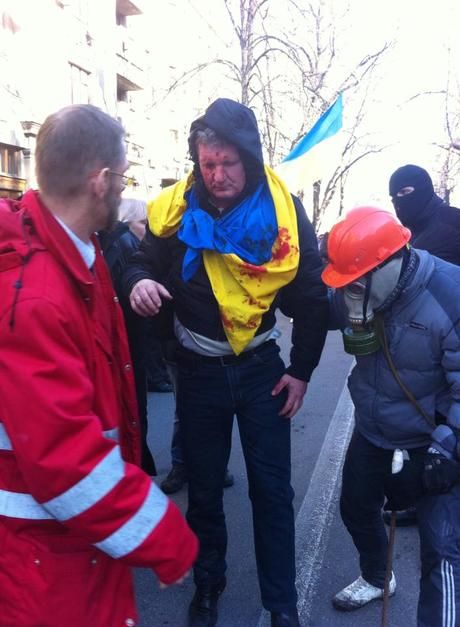 One of dozens injured in clashes today between police and protesters.Open warfare broke out on the streets of Kyiv today, with dozens of people injured, as thousands of police and protesters squared off against each other at several locations near Ukraine's parliament building in Kyiv. Police said that at least 37 police officers were injured, while a precise number of protester casualities was not available, kyievpost.com reports.
By mid-afternoon, thousands of police officers encircled the government district that includes the Presidential Administration complex, parliament and the Cabinet of Ministers, making it difficult for protesters to escape.
By 1:30 p.m., police officers had once again taken up sniper positions by on the roof of 17/5 Institutska Street and fired down onto crowds of protesters, after being repelled earlier in the day by demonstrators. Other officers firedindiscriminately into charging crowds of protesters.
The Institutska Street building, which protesters set on fire this morning and at one time controlled, has been the scene of today's most violent clashes so far.
Besides firing guns, police used clubs, tear gas and flash grenades in a bid to repel thousands of demonstrators who this morning marched on the Verkhovna Rada, as parliament failed to meet today to consider opposition demands for a new constitution and new government.
Protesters struck back, armed with sticks, stones, metal bars, fireworks and Molotov cocktails and other explosives.
Police started firing guns before noon, using rubber bullets and metal bullets, in a bid to repel advancing protesters on Institutska Street.
Dozens of police and protesters were injured by 1 p.m. with the clashes continuing and the number of victims growing higher.
At least two men were shot in the head with rubber bullets, while several front-line protesters were also fired upon by police. Yet other protesters were seen bleeding profusely from the head and carried away from the scene.
Protesters also attacked police officers.
Three major areas of clashes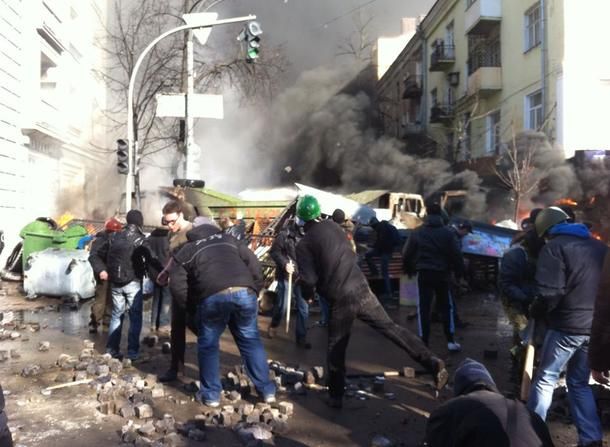 Protesters throw stones at police as firefighters try to put out a fire to a building on 17/5 Institutska St., where officers had been firing from the rooftop down on a crowd of demonstrators.The clashes broke out in at least three separate approaches to parliament after several thousand demonstrators gathered at 8 a.m. on Kyiv's Independence Square: on Mariinsky Park, on Hrushevskoho Street and on Institutska Street near Shovkovychna Street. The most serious clashes were taking place on Institutska and Shovkovychna streets.
Institutska Street and Shovkovychna Street
By 1:30 p.m., police had regained control of the intersection after a see-saw battle with protesters that injured several people on both sides. Numerous police reinforcements, who had been rushed to a five-story building on 17/5 Institutska St. where protesters had trapped police, regained control and took up sniper positions on the rooftop and started firing on crowds below.
Police officers charged a group of protesters with shotguns and fired into the crowd, hitting at least one young man in the eye. The victim was bleeding profusely before being taken away to a hospital by several medics.
Earlier at 1 p.m., hundreds of police officers had been repelled after trying to regain control of Institutska and Shovkovychyna streets -- the scene of today's most violent clashes -- but were attacked by protesters despite police attempts to repel them with shotguns. The scene was one of chaos as protesters blocked the intersection with park benches and dumpsters.
Protesters were repelling police officers and beating them, including one officer who was beaten unconscious before getting help. Several people carried the officer away to safety. Protesters were bleeding from the head as the crowd of thousands continued to advance on police, pushing them back.
By noon, several police trucks were on fire after violent clashes between police and protesters at the intersection of Institutska and Shovkovychna streets.
At 11 a.m., protesters had set on fire one police truck that had been blocking protesters from reaching parliament. Police quickly put out that fire, but protesters started more.
At least four officers took rooftop positions on 17/5 Institutska St., a five-story residential and commerical building, and were lobbing smoke and flash grenades down on protesters who tossed fireworks at the police. Other officers had taken positions inside the building.
At least two officers on the rooftop were firing into the crowd of demonstrators with shotguns -- some with rubber bullets and others with steel bullets. A spotter for the police was also on the roof, directing officers where to fire in the crowd. Other officers continued to throw tear gas into the crowd.
A group of protesters stormed the building with the police snipers and broke windows. The front entrance of 17/5 Institutska St. was set on fire as thousands of protesters shouted at the police on the rooftop. The front entrance of the building was in flames. As police tried to exit, they were forced back inside by protesters.
Protesters -- at least nine of them -- made it to the roof on Institutska Street, some of them brandishing metal bars, in a tense standoff with police on the roof as more gunshots were being fired down on the crowd by police. By noon, however, police had retreated and protesters had triumphantly scaled the roof and were waving a large Ukrainian flag. It was unclear where the armed police on the rooftop went, but at least two officers were trapped inside the building.
Earlier this morning, some two dozen demonstrators dislodged a police vehicle blocking their path to begin the clashes with police. Protesters pushed back police some 10 meters closer to the parliament on Shovkovychna Street.
Many of the thousands of demonstrators were digging up paving stones underneath their feet this morning and passing them to the front line for dozens of fighters to throw at police. The brigade included old and young women.
Opposition lawmaker Volodymyr Ariev said on Twitter: "Law enforcers were the first to use grenades and shoot. When lawmaker Olena Kondratiuk tried to pass them, they were aiming at her legs."
Smoke was everywhere as convoys of protesters continued to dig up and pass paving stones to front-line fighters.
Party of Regions office on Lypska Street set on fire
By 12: 30 p.m., police had regained control of a ruling Party of Regions building on nearby Lypska Street, which protesters had stormed and set on fire earlier in the day.
Agroup of protesters nearby at 11:30 a.m. broke into the building. Journalist-opposition activist Tetyana Chornovol was among the protesters trying to scale the fence, and throwing stones to break windows of the party building.
Someone with a hose inside fired water on the attacking demonstrators as Chornovol entered the party building and gleefully threw documents outside. A person inside the party building threw water bottles from a second floor window on protesters. There were no police or guards immediately present. Demonstrators chipped away with a hatchet at the door.
Parliament doesn't meet
While today's parliamentary session had yet to start as of noon, opposition leader Vitali Klitschko said that parliament speaker Volodymyr Rybak, is to blame.
"I want to emphasize that the responsibility lies on the shoulders of Rybak. He received the assignment from Bankova (the Presidential Administration) not to register the bill (on returning to the 2004 Constitution lessening presidential powers) in any case." Klitschko said. "The president can't every time come and talk with the deputies. There is high probability that the majority can vote for returning to the Constitution of 2004 and the authorities are afraid of that."
Parliament apparently will only consider a new prime minister and constitutional changes on Feb. 20. Oleksandr Doniy, an independent lawmaker, said: "They handed out the agenda (for today's session) as if there is no crisis in the country. All the issues on it are secondary."
February 18 2014, 17:40