By Zeena Urynbassarova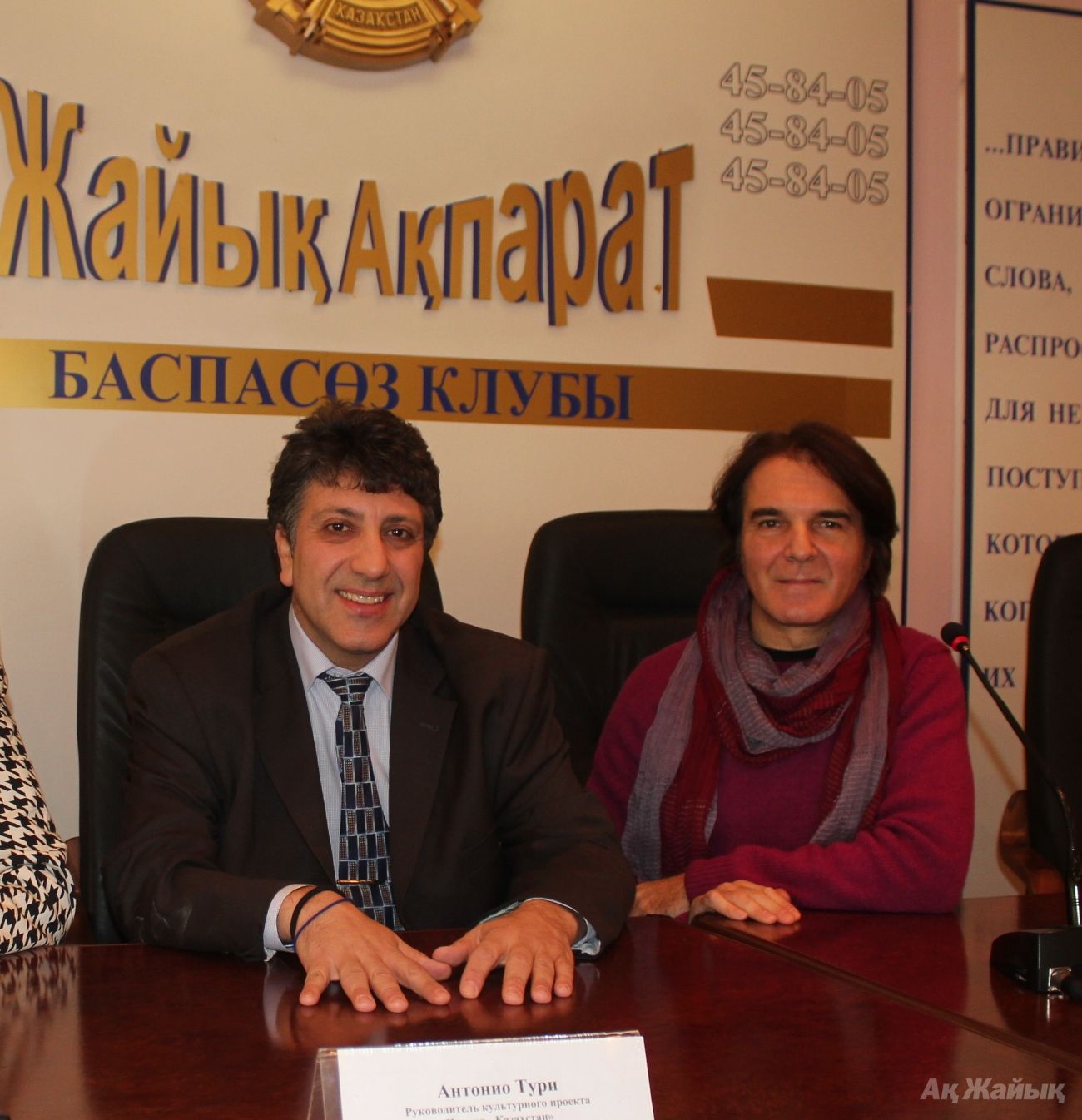 Toni Turi and Alfonso Zambrano in Atyrau, Feb 12, 2014Toni Turi, an Italian engineer, who is well known to the citizens of our city with his music clip "Amo Te" and Alfonso Zambrano – an internationally known show runner and public figure in Italy with extensive TV production experience are working over a new project in Kazakhstan. The project is very ambitious. They are planning to cover 4 areas such as music, fashion, gastronomy and tourism.
They both came from the area called Puglia in the south of Italy. Pulia is the "heel of Italy's boot" and is washed by two seas - Adriatic and Ionic. Such unusual geographical location of Pulia on two seas makes it a bit similar to Atyrau, that is located on two continents.
"Pulia is rich with its history and culture. Here the present and the past are intertwined, creating the atmosphere of magic," - says Alfonso Zambrano. "We want to establish close cultural relations between our two countries in the fields of music, fashion, food and tourism.
We have many Italian entrepreneurs, mainly from Pulia, who want to bring their expertise and products to Atyrau and other regions of Kazakhstan. We also want to introduce the unique Kazakh culture to Italians, who know very little about Kazakhstan. It is in our plans, for example, to organize master classes by Italian cheese-makers who will teach anyone who wishes to learn how to make mozzarella."
The first event that is scheduled within the framework of this project is the concert of the Italian singer Guerino Papa in Atyrau on 4-5 April. It will be Guerino Papa's debut concerts in Kazakhstan. Toni Turi, the event organizer, will also perform at this concert. One of the songs that he will sing is "Balkadisha" – an old Kazakh song composed by Akhan Sery, which turned into one of the favorite national folk songs. Toni translated the song into Italian and Zambrano is making a music clip on this song. When they worked over this video in Italy, the Italians loved this song very much and said that it could easily be an international hit.
By the way, Zambrano shot a few scenes for this music video in Atyrau.
Also within the framework of this project on May 3 the famous Italian singer Pupo will be performing in the Palace of Republic in Almaty together with Guerino Papa, Augusto Amiguchi and Toni Turi.
Let's wish them all the best, as we are sure that here in Atyrau there is appreciable quantity of connoisseurs of Italian music, fashion and incredible Italian cuisine.
Alfonso Zambrano's video about his hometown region Puglia.
February 18 2014, 16:50