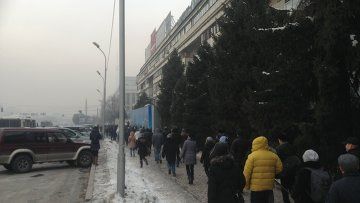 Source:IA News-KazakhstanAnother unauthorized meeting was held in Almaty near the Independence Monument. Police detained three people, azh.kz reports, citing IA News-Kazakhstan.
On Sunday, at 11 a.m. about 20-30 people gathered near the Independence Monument to hold another anti-devaluation meeting. Police forces first were observing an unauthorized meeting and made no attempt to detain anybody.
When two journalists tried to break through police forces lines to lay lacy pants at the Stele of Independence, they were detained by police forces. One of the participants tried to put those laced pants on her head and was also detained by the police.
The meeting lasted about an hour, but nobody else was detained.
On Saturday morning about 100 people gathered for anti-devaluation meeting near the monument to Abai and spent there about 1 hour. The protested urged government to take actions over increasing prices and socioeconomic problems. There were demands about the change of the power in the country. Then the protesters marched to the Republic square towards the city hall and Independence monument. Here they were cordoned off by the SOBR special police forces who tried to enclose the protesters and chased those who tried to escape.
The police forces detained dozens of meeting participants, the majority of them were subjected to administrative liability in the form of fines.
Introduction of a ban on production, import and sale of laced pants made of synthetic materials on the Customs Union territory provoked negative reaction and an extensive discussion among bloggers. It is envisaged that this product can disappear from the shop counters starting July 1, 2014 if no changes are introduced into technical regulations of the Customs Union.
February 17 2014, 09:35