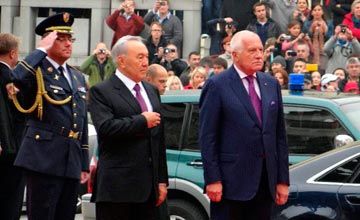 President of the Czech Republic Václav Klaus met in his residence President of Kazakhstan Nursultan Nazarbayev.
In a meeting the parties focused on the results of the bilateral cooperation for the past 20 years, economic, investment, scientific-technological and cultural-humanitarian interaction. Besides, the presidents shared views on the pressing issues of the international agenda and multilateral initiatives.
Later at the briefing Nursultan Nazarbayev invited local businessmen to participate in realization of the State Forced Industrial and Innovation Development Programme of Kazakhstan.
President Nursultan Nazarbayev thanked Václav Klaus for the invitation to visit Czechia. "It is my first official visit to the Czech Republic on the eve of the 20th anniversary since the establishment of diplomatic relations between our countries. Today, Czechia is the important partner of Kazakhstan in the European Union. Our countries enjoy complementary economies. For the past ten years we have carried out similar economic reforms. The Czech practice is of great interest for Kazakhstan," the Head of State noted.
KAZINFORM
October 24 2012, 10:54