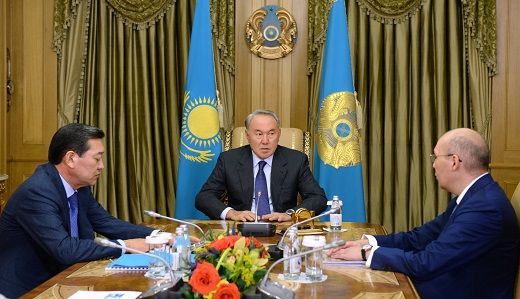 Photo:AkOrda.kzToday, President of Kazakhstan Nursultan Nazarbayev has received Prime Minister Serik Akhmetov and Chairman of the National Bank Kairat Kelimbetov following the devaluation of Kazakhstan's national currency, the Akorda's press service reports.
"The decision on devaluation of the Kazakh currency should not negatively affect ordinary people. Now it is very important for us to monitor the market prices for them not to be artificially raised, to prevent speculation in exchange offices. Akims of all levels should control this situation, and the appropriate state authorities should constantly monitor the process and take tough measures, up to deprivation of foreign exchange license of those who speculate on the current economic situation. It is necessary to take all measures for the inflation rate to be in the given corridor for the benefit of the country's economy," the President highlighted.
The Head of the National Bank stressed that a huge work had been done to analyze the state of the global economy and the relation of tenge to other currencies.
Also, Kairat Kelimbetov emphasized the changes of the payment balance. Despite the fact that the trade balance remained positive in 2013, it suffered a fourfold decrease as compared to the last year.
The Kazakh leader also called on tougher penalties on those who exploit the situation up to and including revocation of licenses.
February 12 2014, 19:01