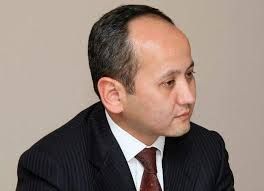 Mukhtar AblyazovThe forme head of the "BTA Bank" Kazakh fugitive oligarch and opposition figure Mukhtar Ablyazov has appealed the court decision on his extradition to Russia and intends to seek political asylum in France, ITAR-TASS reported.
"The French court decided to extradite Ablyazov to Russia, however we intend to seek the abolition of the decision," Ablyazov's Russian lawyer Mark Feigin said.
Abyazov has already filed on appeal to the court because the case is politically motivated, according to Feigin.
"If Abliyazov remains in France, he intends to ask for political asylum in this country," the lawyer said.
Earlier the French court approved the extradition of Mukhtar Ablyazov to Russia and Ukraine because he is accused of several economic crimes in their territories. Meanwhile the priority was given to Russia's extradition request.
Ablyazov is also on the wanted list by Kazakhstan's authorities on fraud and embezzlement charges while he was heading BTA Bank. He has denied the charges.

Mukhtar Ablyazov fled to the United Kingdom claiming asylum against political persecution after the opening of criminal investigation in early 2009 in Kazakhstan. In May 2011, the British court refused to recognize claims that the case was politically motivated and upheld the bank's claims. In February, 2012 the UK High Court sentenced Mukhtar Ablyazov to 22 months of imprisonment for contempt of court. However, the sentence has not been carried out so far. Moreover, Ablyazov had a direct relationship to the mass riots in the city of Zhanaozen on December 16, 2011 when at least 14 people were killed, according to local media.

Ablyazov was arrested last year in July 31 near the city of Cannes in the south of France. Earlier the non-governmental organization focused on human rights, Amnesty International urged France to prevent extradition of Mukhtar Ablyazov to Kazakhstan or any country that might return him to Kazakhstan. Kazakhstan and France has no bilateral extradition treaty.
The organization believes there is a high risk that if extradited to Russia and Ukraine Ablyazov would be subjected to onward transfer to Kazakhstan where he would face an unfair trial and possible torture and other ill-treatment.
February 11 2014, 10:14