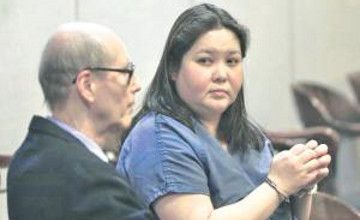 Asel AbdygapparovaFormer Kazakh student Asel Abdygapparova, sentenced in the U.S. to life in prison, has appeared before the court again. In the case of fortunate circumstances the court may reduce the prison sentence, inform.kz reports citing "Express K" newspaper.
Last week the Kazakh woman appeared in the courtroom. As reported by the American press, this high-profile case will be reviewed and this time the woman will be put forward against less serious charges. She faces 28 years in prison maximum. Earlier, the Court of Appeal has already pointed out that the original trial the judge did not offer Asel the opportunity to use all means to defend herself and did not take into account her assistance during the investigation.

As it was previously reported, in April 2001 Asel Abdygapparova came to a police station in San Antonio, Texas, and gave information on what happened with Rosa Rosado, a missing single mother of two. Asel showed the spot where Rosa Rosado was buried by her killers and named the murderers - Ramon Hernandez and Santos Minjarez. The both named persons were immediately arrested. But 4 months after the two men's arrest police detained Asel as well.
She has been in the custody of the State of Texas since then and is officially accused of participation in 37-year Rosa Rosado's murder. On March 31, 2001, Rosa was kidnapped, raped and murdered. Bexar County court sentenced 31-year Santos Minjarez to death in March 2003, which was five moths after 30-year Ramon Hernandez had been sentenced to death too (October 2002). Ramon was Asel's boyfriend.
Relatives of the murdered Rosa Rosado demanded death sentence for all the three. When Santos Minjarez was sent to get the lethal injection at the death sentence's implementation center, Rosa Rosado's father Fidel Rosado said that it was a too easy death for him in comparison with what he had done with his daughter.
According to Asel Abdygapparova, on the day of the tragedy, her boyfriend Ramon Hernandez and herself together with Ramon's old friend Santos Minjarez were traveling by car. Asel was on the fifth month of pregnancy then. While in the car, Asel, as she says, felt tired and fell asleep. She woke up when Santos was pushing an unknown lady into the car.
The lady was Rosa Rosado. Santos Minjarez started beating the lady demanding her to give him cash. The woman was begging Santos to let her go saying that she had only credit cards, but no cash. Asel also asked Santos to let the lady go. The two men then forced the poor lady to get into a motel room. Santos threatened Asel and forced her to go to a nearby shop to buy a spade. In three days after her arrest, Asel delivered a child (a son) in a preliminary detention center in San Antonio. The birth was very complicated. A cesarean section was performed. The boy's grandmother Saule Abdygapparova managed to compile all the necessary documents and took the baby to Almaty, Kazakhstan.

The case sparked controversial discussions among Kazakhstani expatriates living in the United States and Canada. Many Kazakh citizens and Asel's lawyer are sure that Asel is not guilty and that she should return to Kazakhstan to her son.
February 11 2014, 10:07