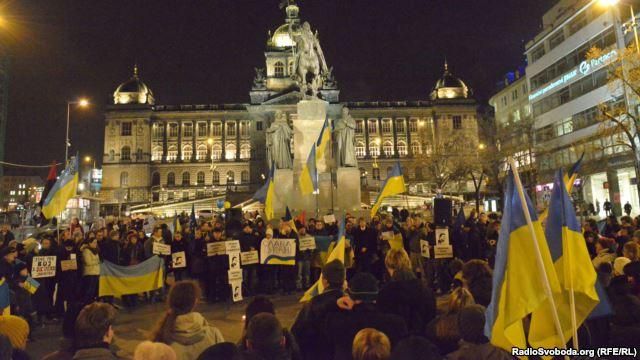 A growing number of prominent Czechs is vocally opposing President Milos Zeman's plan to host his peer Viktor Yanukovych in April on a state to the Czech capital, calling for the event to be cancelled amid concerns of alleged human rights' abuses in Ukraine, wsj.com reports.
"In current circumstances I don't see a single reason why the City of Prague should participate in the state visit of President Yanukovych. It's absurd that [his plane] should land at the Vaclav Havel Airport," Prague Mayor Tomas Hudecek said Tuesday, referring to Prague's airport named after human rights' champion and former President Vaclav Havel.
Prague's city council has decided to refuse any part in the state visit and will not provide Mr. Yanukovych access to historic sites that are routine on such visits, such as Prague's Old Town Hall. On the contrary, the council has voted to donate 500,000 koruna ($24,500) from its own budget to victims of violence and human rights' abuses in Ukraine.
The move comes as several hundred Czech celebrities, including the Oscar-winning film maker Jiri Menzel, as well as politicians and artists have signed a petition calling for the cancellation of the state visit.
These Czechs along with the European Union and the United States are concerned that Mr. Yanukovych has shown short shrift to Western ideals of human dignity, civil rights and democratic ideals.
Czech President Zeman is showing no signs of changing his mind about the visit.
"The President, as he has already said several times, prefers dialogue versus confrontation and still plans on meeting Mr. Yanukovych," said Jiri Ovcacek, the spokesman for Mr. Zeman.
The spokesman said that in talks with Mr. Yanukovych, the Czech President aims to find possible ways out of the current political stalemate in the former Soviet republic. "Without meddling with the internal Ukrainian issues, Mr. Zeman still sees holding early elections as a possible solution and he will communicate this opinion to Mr. Yanukovych."
Unconfirmed media reports earlier Tuesday said that Mr. Yanukovych is now considering calling early elections.
Czechs have earlier voiced concerns for human rights' abuses in former Soviet republics.
The Ukrainian government last year turned away from a long-prepared deal with the EU in favor of financial aid and closer ties with Russia, sparking widespread protests in Ukraine that were exacerbated by Mr. Yanukovych last month enacting draconian anti-protest laws that led to increasingly violent opposition and several deaths.
Mr. Yanukovych has since ceded some ground in his battle with opposition, calling for anti-protest laws to be scrapped, but the situation remains tense and protests are showing no signs of waning.
February 5 2014, 15:55