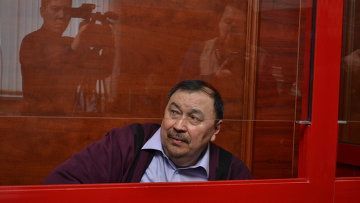 Yerzhan Utembayev. Photo: © Miras NurmukhanbetovA court in Kazakhstan reduced the prison sentence Monday of a former senior state official from 20 to 13 years after a retrial over the 2006 high-profile killing of an opposition leader, azh.kz reports.
Yerzhan Utembayev, the former chief of staff of the upper house of parliament, was found guilty in the new trial of being an accomplice in the murder of former government official Altynbek Sarsenbayev by helping to hire the attackers.
He was originally found guilty in 2006 of masterminding the shooting of Sarsenbayev, his driver and bodyguard, and sentenced to 20 years in jail.
Utembayev pleaded not guilty, saying in the retrial that he had only planned to order the roughing up of the opposition figure, not his murder.
Ten other men were also convicted in 2006 in connection with the crime, which Sarsenbayev's supporters believe was motivated by the politician's work.
Utembayev's verdict was overturned last year and sent for retrial by the Supreme Court when one of the other convicts in the case claimed that the killings were in fact ordered by Alnur Musayev, former head of the National Security Committee, and Rakhat Aliyev, the erstwhile son-in-law of President Nursultan Nazarbayev and also a former deputy head of the security services.
On Monday, the court ruled to forward that claim to the Prosecutor General.
Both Musayev and Aliyev have fled Kazakhstan and have been given lengthy prison sentences in absentia on unrelated charges.
February 3 2014, 14:59