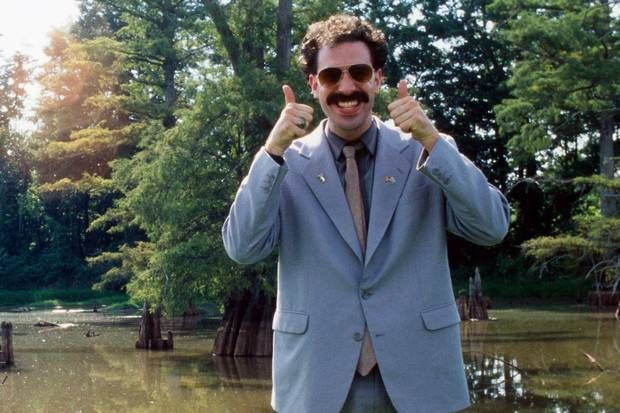 More women MPs: Actor Sacha Baron Cohen as BoratBritain is languishing behind more than 60 countries including Kazakhstan, Zimbabwe and Afghanistan in getting women into Parliament, official figures show, standard.co.uk reports.
The UK stands 65th in the world for female representation among MPs, with 147 women sitting in the House of Commons — 22.6 per cent of the total.
Despite long boasting of being the Mother of Parliaments, it also trails Algeria, Kyrgyzstan, Tunisia, Sudan and Belarus. Among EU nations, it is 15th out of 28, behind nations such as Italy, Germany, France, Spain and Poland.
Britain now has the most gender-balanced Parliament in its history, with the number of female MPs having increased from just over nine per cent in 1992. But other nations have made more pro-gress. In Kazakhstan, home to fictional comedy character Borat, 24.3 per cent of MPs are women, according to the statistics published by the Commons.
"These figures are very disappointing," said Labour MP Diane Abbott, co-chairwoman of the UK's all-party parliamentary group on sex equality. "The fact that even the country of Borat has more women MPs should make people think and act." Many House of Commons practices, including sitting hours, are still criticised as not being family-friendly. Helen Grant, minister for women and equalities, said the Commons "was designed by men for men" hundreds of years ago.
She added: "We need to focus on drawing on the vast pool of talented women and encouraging them to get involved in politics." Labour's spokeswoman on the issue, Gloria De Piero, said people were "tuning out" of politics because Parliament "doesn't look or sound like the people it represents.
"If the Prime Minister thinks nothing of appointing only four women out of 22 to his Cabinet, no wonder we don't have more women's voices in politics. All parties have a responsibility."
According to the figures from the Inter-Parliamentary Union, based on the situation last November, Rwanda tops the table of 190 countries, with 63.8 per cent female representation.
The UK is ahead of the US (17.8 per cent), Russia (13.6), Pakistan (20.7) and Japan (8.1). Charlie Woodworth, of equality campaigners the Fawcett Society, said: "The UK has a long way to go before we can say we have a political culture that values women equally."
February 3 2014, 12:06