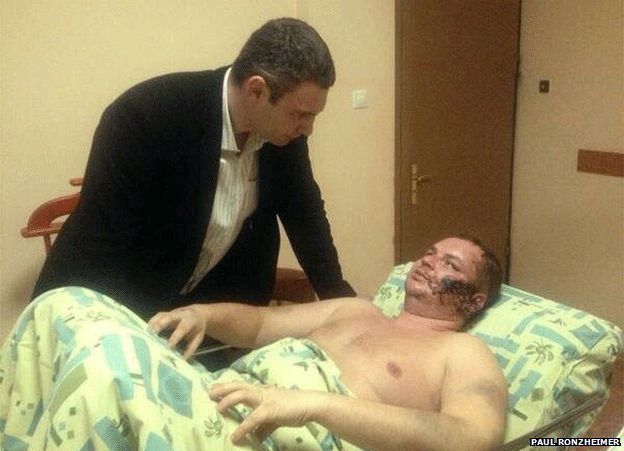 Opposition politician Vitali Klitschko visited Dmytro Bulatov in hospital. Photo:bbcA leading activist in Ukraine's street opposition who vanished for eight days says he was abducted and tortured before being left to die in the cold, bbc reports.
Dmytro Bulatov, who organised car protests for the opposition camped out in Kiev, is being treated in hospital after being found near the capital.
Meanwhile, President Viktor Yanukovych has signed an amnesty, seen as a major concession to protesters, into law.
The army has called on him to take "urgent steps" to ease the crisis.
Three protesters and three police officers have been killed, and scores injured on both sides, since the protests turned violent on 22 January.
Opposition to Mr Yanukovych spilled into the streets in November after he abandoned a trade deal with the EU in favour of closer economic ties with Russia.
Mr Yanukovych accused the opposition of seeking to "inflame" the situation on Thursday by continuing the protests despite moves by the government and parliament to ease the stand-off.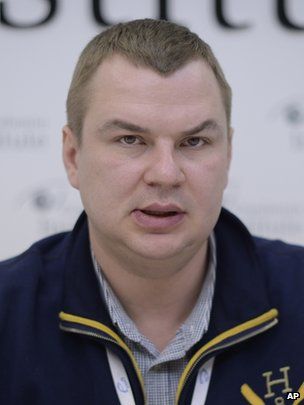 Dmytro BulatovOn Friday, the president signed the bill passed by parliament which grants amnesty to detained protesters on condition that occupied buildings are vacated.
Anti-government demonstrators remain in their camp in Independence Square (Maidan) with no sign of the political crisis in the country coming to an end, the BBC's Duncan Crawford reports from Kiev.
Mr Yanukovych, 63, has gone on sick leave, with his staff reporting he has a respiratory illness and a high fever.
'Crucified'
Mr Bulatov says he was left to die by his captors after being kidnapped, repeatedly beaten and "crucified". He was, he said, hung up by his wrists.
"They crucified me, so there are holes in my hands now," he said.
"Other than that - they cut off my ear, cut up my face. My whole body is a mess. You can see everything. I am alive. Thank God for this."
The activist reportedly said he did not know who had abducted him but his abductors had spoken with Russian accents.
According to the Ukrainian news website Gazeta.ua, doctors found no damage to his internal organs or his skull.
Police in Kiev have confirmed Mr Bulatov was bruised and received a cut to one of his ears, Ukrainian newspaper Ukrainskaya Pravda reports.
They have opened an investigation and posted guards at the hospital where he is being treated.
According to the paper, they also expressed indignation that Mr Bulatov had not phoned them after his release.
Mr Bulatov is a prominent anti-government activist and one of the leaders of the organisation AutoMaidan, which has patrolled streets around Independence Square.
Amnesty International described Mr Bulatov's ordeal as a "barbaric act which must be investigated immediately".
Reaction to news of his ordeal among opposition supporters and journalists was furious, with one journalist, Vitaly Portnikov, suggesting "death squads" were operating in Ukraine.
'Unacceptable violence'
Ukraine's defence ministry put out a statement after Defence Minister Pavlo Lebedyev met staff in Kiev.
"The military and the armed forces of Ukraine have called unacceptable the violent seizure of state institutions, and interference with representatives of state and local governments to carry out their duties, noting that further escalation of the conflict threatens the territorial integrity of the state," it said.
"Laying out their civil position, servicemen and employees of Ukraine's armed forces... called on the commander-in-chief to take urgent steps within the limits of existing legislation with a view to stabilising the situation in the country and reaching consent in society."
Soldiers have not been deployed against the protesters during the crisis, which has seen government buildings occupied.
Responding to the announcement, Nato chief Anders Fogh Rasmussen said in a tweet: "Ukraine's military is highly respected and must remain neutral. I continue to follow developments with concern."
President Yanukovych accepted the resignation of Prime Minister Mykola Azarov and his cabinet this week, and offered senior jobs to the opposition - offers that were rejected.
Demonstrators accuse the security forces of being behind the abductions and brutality towards protesters.
January 31 2014, 18:46