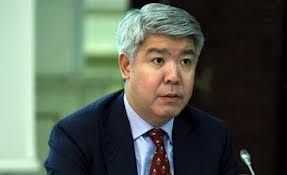 Nurlan Kapparov, RoK Environmental MinisterMore than 10 billion tenge was invested in the protection and reproduction of fishery resources in Kazakhstan over the last eight years, Minister of Environment and Water Resources Nurlan Kapparov said at a meeting of the staff, inform.kz reports
"Private capital investment in the protection and reproduction of fishery resources increased to 10.2 billion tenge over the past eight years," Kapparov noted.
In addition, he noted that in the framework of implementation of the concept of transition to a "green economy" in 2014 it was planned to work out a program for fisheries development, the web-site of the Prime Minister reports.
This document, according to the minister, will contain a set of measures aimed at the preservation, reproduction and rational use of the resource potential of fishery ponds and development of fish rearing for sale.
"These are very profitable and promising green technologies," Kapparov stressed.
Regarding the protection of sturgeons the minister said that the Commission on Aquatic Bioresources of the Caspian Sea was considering imposing a five-sided moratorium on sturgeon fishing. According to him, Kazakhstan has already imposed this ban.
He also mentioned that Atyrau and Ural-Atyrau sturgeon hatcheries released about 7 million sturgeon fingerlings in natural environment last year.
January 27 2014, 12:42