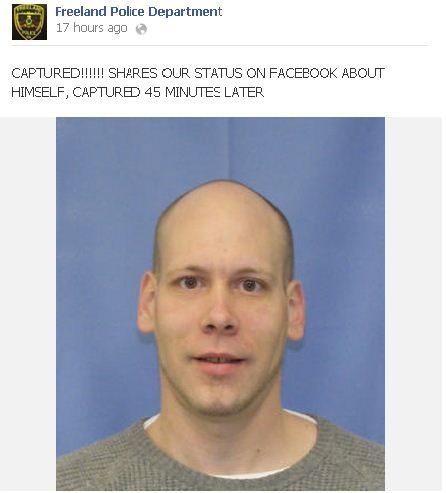 The website of the Oxford Dictionaries defines oversharing as to "reveal an inappropriate amount of detail about one's personal life", yahoo.news reports.
And there may be no better recent example of an overshare than that of Anthony James Lescowitch, 35, who posted his own police-wanted photo to his Facebook page, which led to his arrest less than an hour later.
Lescowitch obtained the photo from the Freeland, Pa., Police Department, according to the Times Leader, and posted it to his Facebook account in order to "taunt" authorities who have charged him with assault and a number of other infractions.
"Lol i f***ing love it, A**HOLE," he wrote.
The Freeland police posted Lescowitch's photo just after 9 p.m. on Monday, along with a request asking anyone with information on his whereabouts to call 911. The police noticed that minutes later Lescowitch shared their post with the aforementioned words mocking them. That's when police got an idea.
According to the Times Leader, police created a fake Facebook profile of an attractive woman, then they reached out to Lescowitch pretending to be interested in him. After about a half-hour conversation, the fake woman asked Lescowitch to meet up. At first he declined, but when "she" said "the least you can do is come out and have a cigarette with me," Lescowitch agreed.
Police showed up at the address he provided, and undercover officer T.J. Rentschler took him into custody without incident.
In no small ironic twist, the Police Department announced the arrest on its own Facebook page. "CAPTURED!!!!!! SHARES OUR STATUS ON FACEBOOK ABOUT HIMSELF, CAPTURED 45 MINUTES LATER."
Interestingly, police say they believe Lescowitch posted the picture by accident, most likely meaning to share the photo and commentary with a friend on the social networking site. However, a few of his friends couldn't help but comment on the posting, with one writing, "I can't like that!!" and another declared "Good luck lmao," according to the Metro UK site.
Lescowitch, who had been avoiding police since November, is currently being held on a $25,000 bail with a preliminary hearing set for Jan. 29.
January 27 2014, 11:34