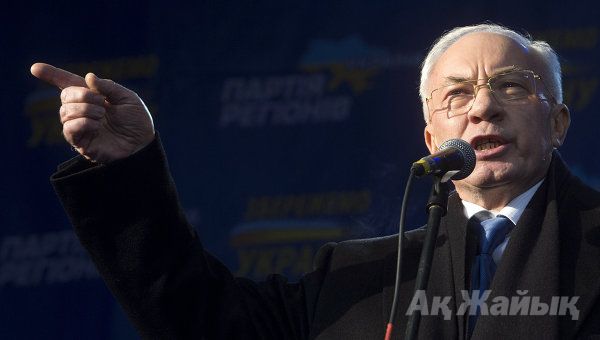 Mykola AzarovUkraine's prime minister has dismissed an ultimatum from opposition leaders threatening to go on the offensive Thursday unless their demands are met by the government, ria.ru reports.
With the standoff between anti-government demonstrators and police degenerating into violent clashes in recent days, opposition leaders have made new and bolder demands for the ouster of the government and renewed calls for immediate elections.
In an interview with the BBC in Switzerland late Wednesday, Prime Minister Mykola Azarov struck a defiant note, suggesting that the government was unlikely to change the firm stance it has adopted to date.
"The authorities are for a constructive dialogue with the opposition … but they do not accept the conditions of an ultimatum," Azarov said in the interview, extracts of which were published on the Cabinet's website.
At least three protesters are believed to have been killed in violence in Kiev that broke out on Sunday after about a hundred thousand people flooded the city in protest at hastily passed legislation curtailing the freedom to demonstrate.
The three main leaders of the opposition movement met with President Viktor Yanukovych on Wednesday for three hours of negotiations that apparently produced no results.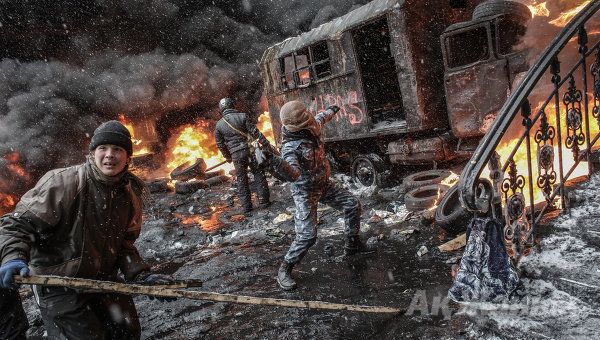 The situation in KievAddressing tens of thousands of supporters on Kiev's central Independence Square later on Wednesday evening, Udar party chief and opposition figurehead Vitaly Klitschko, who was present at the meeting with Yanukovych, issued an ultimatum.
"If the president doesn't compromise, then tomorrow, when there will be more of us, we will go on the offensive," Klitschko said to cheers from the crowd. "If it's necessary to face bullets, I will face the bullets."
The confrontation in Kiev continued on Wednesday night, although reportedly without the levels of sustained violence seen in previous days.
Footage from Kiev on Thursday morning showed a large pall of black smoke hanging over the city from bonfires made from tires that were lit by demonstrators. The Interior Ministry said Thursday that fire had spread to one of the houses on Hrushevskyy Street, where clashes have been concentrated.
Ukrainian riot police have deployed plastic bullets, stun grenades and baton charges against protesters in recent days, while activists have thrown Molotov cocktails, rocks and fireworks at police lines.
Protests have been raging in Ukraine since November, when the government decided in late November to pull out of an association agreement with the EU, opting instead for closer ties with Russia.
January 23 2014, 17:39