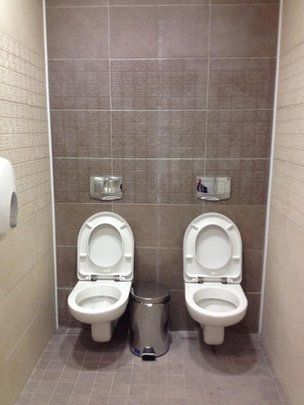 The photo was tweeted on MondayA BBC photo of a men's cubicle with twin toilets at a Sochi Olympics venue has caused a Twitter storm in Russia, bbc reports.
The picture from the Biathlon Centre tweeted by Moscow correspondent Steve Rosenberg was picked up by opposition leader Alexei Navalny among others.
Mr Navalny queried how the budget for the games, said to be $50bn (£30bn; 1,700bn roubles), had been spent.
Elsewhere, the photo caused disbelief and much hilarity, with some linking it to the recent debate over gay rights.
BBC cameraman Max Lomakin snapped these communal toilets at Kazan University
"Seeing double in the Gentlemen's Loo at the Olympic Biathlon Centre," our correspondent wrote in his original tweet.
Retweeting the photo, Mr Navalny commented: "This is a men's toilet in a Sochi Olympics media centre for 1.5bn roubles [£27m; $45m]."
"Two toilets - 28,000 roubles," wrote another blogger. "Olympic media centre - 1.5bn roubles. Global embarrassment - priceless."
Others joked about Russia's controversial law on "gay propaganda", which led to calls from international campaigners to boycott February's games.
"This is how they understand the needs of sexual minorities," was one quip.
Noting there was one toilet roll between two in the cubicle, another tweeter wrote: "Tear off some paper before you sit down."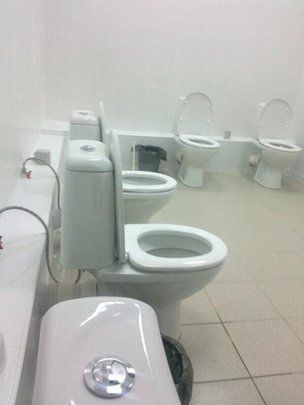 BBC cameraman Max Lomakin snapped these communal toilets at Kazan UniversityThe Biathlon Centre was completed nearly two years ago, with investment from the Russian state gas company Gazprom.
"The building is one of the biggest and most comfortable structures of its kind in the world," a company representative told Russia's Interfax news agency at the time.
While the sight of twin toilets is unusual in European parts of Russia, it is not unknown, as Russian journalist Nikita Likhachev revealed, blogging about the story for Russian news website Tjournal.
Examples collected on his blog (in Russian) include facilities apparently to be found in other sports venues and even restaurants.
One photo shows a row of planks laid over a pit in a field. "Army toilet" runs the caption.
January 23 2014, 12:07