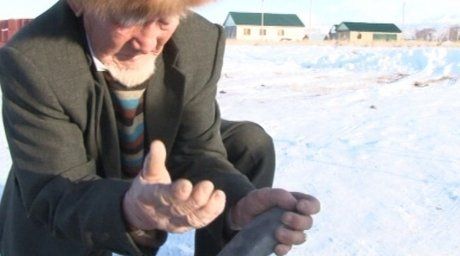 Seken Tolebekov crushing a rock. ©STV channel83yo Seken Tolebekov lives in Almaty Oblast, Kazakhstan. It spite of his age, his hands possess an unusual strength: he crushes rocks with his bear hands, tengrinews.kz reports.

He started crashing rocks at the age of 24, since then he has dealt with more than 2000 rocks.

"I think I have some sort of power in my hands. I am getting older, but my hands are still strong. I believe that I got the power from on high. It started when I was young. I kept feeling heat in my right hand all the time, then I felt an urge to crush a rock.

"Sometimes people try to repeat what I do. But it has always ended with injuries and bone fractures for them.

"I don't feel any pain when my hand comes in contact with the stones, it feels like crushing sand," the old man said.

Local doctors believe that inheritance, diet and healthy lifestyle are behind his special ability.

According to Seken's wife Raikhan, he likes to eat meat and broth and is fond of the Kazakh national cuisine in general. "He also eats some diary products, goes to bed early and wakes up early. He is hardworking and likes to spend time with children. We have been married for more that 50 years. I've been taking care of him all my life," she said.
For more information see:http://en.tengrinews.kz/people/83yo-Kazakh-man-crushes-rocks-with-his-bare-hands-25402/
Use of the Tengrinews English materials must be accompanied by a hyperlink to en.Tengrinews.kz
January 20 2014, 11:02