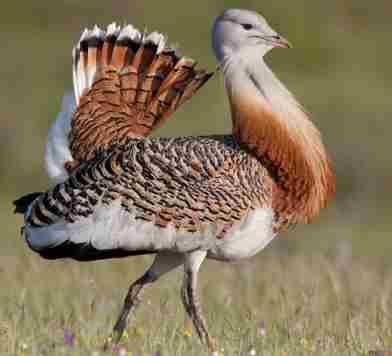 Rare bird Houbara bustard.Representatives of the governments of Abu Dhabi and Kazakhstan on Sunday signed an agreement of co-operation concerning the preservation of the Houbara bustard, gulftoday.ae reports.
At a special ceremony held in Abu Dhabi, the International Fund for Houbara Conservation (IFHC) and the Ministry of Environment and Water Resources of the Republic of Kazakhstan agreed to 'protect, breed and restore' the wild Asian Houbara population.
The focus of the Co-operation Agreement concerns arrangements for the Sheikh Khalifa Houbara Breeding Centre – Kazakhstan (SKHBC-KZ) at Shayan.

The centre is the fourth around the world, managed as part of IFHC's international efforts, to preserve the Houbara. The ultimate target of the centre is to breed and release up to 10,000 Asian Houbara every year. As well as arrangements for breeding Houbara, the agreement will assist in the development of protection zones and habitat preservation.

The agreement also reinforces existing principles of conservation co-operation, such as preserving diversity, protecting wild species and respecting cultural values (in particular the heritage status of falconry).

The agreement was signed by Mohamed Saleh Al Baidani, Director-General, IFHC, on behalf of Abu Dhabi and Bagdat Azbayev, Chairman of the Forestry and Hunting Reserve Committee of the Republic of Kazakhstan's Ministry of Environment and Water Resources.
Azbayev led a delegation from Kazakhstan, which also spent a day at IFHC's National Avian Research Centre — a model for successful captive breeding facilities.
January 20 2014, 10:24