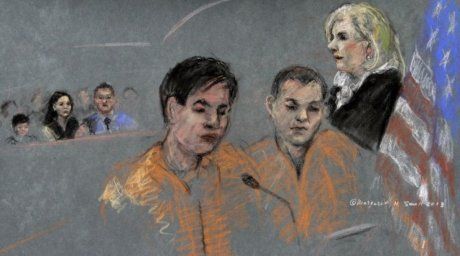 The federal judge overseeing the case of three college friends of accused marathon bomber Dzhokhar Tsarnaev took a tough line with lawyers looking for more time to prepare for trial before setting a June 23 date, bostonherald.com reports.
Federal District Court Judge Douglas P. Woodlock said he was taking seriously a request for a speedy trial from defendant Azamat Tazhayakov, who asked that the trial of the three former University of Massachusetts Dartmouth students begin by July 14.
When lawyers on both sides complained a July trial might interfere with their vacation plans, and started talking about September dates, Woodlock stopped them in their tracks.
"We're making it closer, not farther away," the judge said.
Tazhayakov has pleaded not guilty to two counts of obstruction of justice and conspiracy. He could face 20 years in prison and a $250,000 fine.
His co-defendant Dias Kadyrbayev, a Kazakhstan native, also pleaded not guilty to the same charges. Both teens face deportation.
A third Tsarnaev buddy, Robel Phillipos of Cambridge, pleaded not guilty to two counts of lying to investigators, each of which could bring him eight years in prison. He is the only one free on bail.
Woodlock set a series of dates, starting with defense requests for additional discovery Jan. 31.
He allowed defense motions to suppress evidence to come up last, with the anticipation that they might trigger requests by the defendants for separate trials and possible plea bargain discussions.
Kadyrbayev's attorney Robert Stahl, suggested he would be seek to move the trial out of state because of the massive publicity surrounding the marathon bombings.
"It's hard to bring on people (to the jury pool) who don't have some connection or other, who knows someone who knows someone affected by the tragedy," Stahl said.
Family and friends of Tazhayakov and Phillipos were in court today. Phillipos' mother refused to comment, but Tazhayakov's father said, with his son's lawyer translating, that he was pleased with the judge's decision to bump up the trial date. He said the new schedule brought the day closer when his son would prove his innocence and walk out of jail.
"We felt it was our first victory on this case," said Amir Ismagulov, Tazhayakov's father. "We felt this was a great victory for Boston to know the truth nine months earlier ... Our sons feel they didn't harm this city and country, and they never felt they did something negative or harmful."
January 17 2014, 13:21