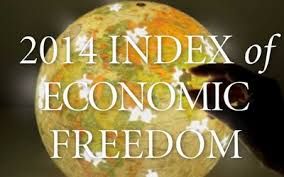 Kazakhstan's economic freedom score is 63.7, making its economy the 67th freest in the 2014 Index, reads Heritage Foundation report.
The score is 0.7 point higher than last year, with notable improvements in investment freedom, business freedom, and monetary freedom partially counterbalanced by deterioration in the rule of law as measured by property rights and freedom from corruption. Kazakhstan ranks 11th out of 42 countries in the Asia–Pacific region, and its overall score is above the world and regional averages.
Over the 17 years that Kazakhstan has been graded in the Index, its economic freedom has advanced by 22 points, one of the 20 best improvements recorded by any country. This increase has been facilitated especially by improvements in regulatory efficiency and market openness. Scores for seven of the 10 economic freedoms, including monetary freedom, trade freedom, financial freedom, fiscal freedom, and business freedom, have increased by double digits. Once considered a "repressed" economy, Kazakhstan has risen to "moderately free" since 2008.
Looking ahead, deeper structural reforms will be critical in overcoming challenges associated with the need to reduce dependence on the energy sector and achieve more diversified growth. Property rights and freedom from corruption remain far below average world levels, - says the reports.
January 16 2014, 13:13