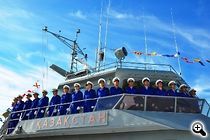 Ceremony of the launch of rocket-artillery ship "Kazakhstan" in AktauKazakhstan has formally launched its first warship in the Caspian Sea, the rocket-artillery ship "Kazakhstan", with a ceremony in Aktau, the country's main naval base, on October 18.
Kazakhstan's defense minister, Adilbek Dzhaksybekov,said at the ceremony that the Caspian is "becoming a strategic zone of global significance.":
"The government is taking measures to create here a self-sufficient group of armed forces, equipped with up-to-date weapons and technology, capable of defending the military security of the Caspian region in all spheres -- in the water, land and air."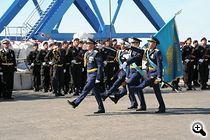 Dzhaksybekov reiterated that Kazakhstan is building two more ships of the same type as "Kazakhstan," which underwent three months of testing in the Caspian this summer before formally entering service, reportedCaspioNet (which has a video of the opening ceremony).
October 21 2012, 01:20