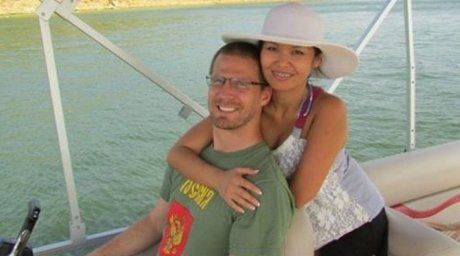 Photo from Aaron and Bota's personal archivesThings lost in translation and the cultural gap are not jokes in the modern age of seemingly enhanced global communication. But a story of love that surpasses barriers like language, culture and even silence will certainly melt the hearts of even hard-boiled skeptics. The story starts with Aaron Bean who volunteered in 2011 to be a part of Peace Corps in Kazakhstan and fell in love with a deaf Kazakh girl Botagoz Usenova, tengrinews reports.
Aaron met Bota at a concert in the Cultural Center for people with impaired hearing where she sang a song with gestures. "It was very beautiful. I fell in love from the first sight, and when Bota started teaching me Russian language of gestures we started learning more about each other," said Aaron. She declined several invitations, but Aaron was insistent. "We went to the Regional Gesture Song Festival in Petropavlsk together, Bota won the 3rd place there. On our way from Petropavlsk I realized that the feelings were mutual," Aaron told Aktobe's Evrika.

But as the genre dictates, the love story of Aaron and Bota had its climax, too. Upon his return to the United State, Aaron got divorce from his wife. He came back to Kazakhstan to take away his new fiance Bota. The relatives of the girl were against it. "But I 'kidnapped' her anyway (referring to old Turkic tradition of kidnapping brides). I gave her a good life in a cozy house, and I'm giving her parents a little granddaughter, and they are happy now," Aaron said with a laugh.

It was not easy to overcome the barriers set by the difference of languages, cultures and more importantly the inability to talk. According to Aaron they worked hard to understand each other. He shared even the minute details of his phone calls and discussed them with her. He still tells her about everything.
Despite the difficulties and cross-cultural issues the couple is happy together. Aaron and Bota, now a husband and a wife, live in Tulsa, Oklahoma and are preparing for the birth of their first daughter. "Bota got used to American life, but she remains a true Kazakhstani. She started working here, but still cooks beshparmak (Kazakh national dish) and drinks a lot of tea," Aaron said.
They both miss Kazakhstan and hope to visit after the birth of their daughter.
It would be right to say that the story of Aaron and Bota is not about surpassing cultural difference, but rather about embracing it and comfortably living within the difference.


January 13 2014, 10:20