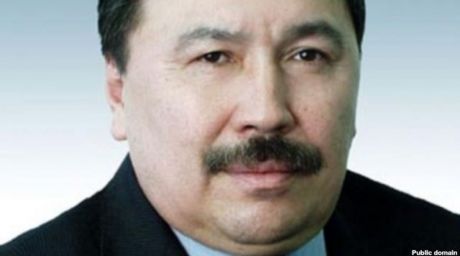 Yerzhan Utembaev. Photo:azattyq.org.A date has been set for the retrial of Yerzhan Utembaev, a former top Kazakh official found guilty of ordering hit on Altynbek Sarsenbaev, a Kazakh opposition leader and former information minister, azh.kz reports.
A court in Almaty announced on January 8 that the retrial of Yerzhan Utembaev, ex-chief of staff of the Senate of Parliament, will begin on January 10.
Utembaev was found guilty of ordering the murder of Altynbek Sarsenbaev and two associates in 2006 and sentenced him to 20 years in prison.

The Kazakh Prosecutor-General's Office announced last month that the case had been sent for revision after newly obtained evidence pointed to Rakhat Aliev, the former son-in-law of President Nursultan Nazarbaev, as having ordered the hits. Aliev, who was deputy chief of the National Security Committee when the murders took place, has been living in self-imposed exile in Europe since 2007.
"On April 16, 2012 Rustam Ibragimov who was serving sentence in correctional facility, appealed to the RoK Supreme Court with the statement where he reported the facts of the committed crime that earlier were unknown to law enforcement and judicial authorities".
In this statement he for the first time admitted commission of murder and described circumstances of its commission in details. He also reported that it wasn't Yerzhan Utembayev, but Rakhat Aliyev and Alnur Musayev, who were the true persons who ordered the hit on Altynbek Sarsenbaevy, - said Andrei Kravchenko, the RoK deputy general prosecutor at the briefing in Astana. According to Kravchenko, Ibragimov killed Sarsenbayev.
By order of the Supreme Court the reliability of additionally received evidence was checked by a specially established investigative task force consisting of the staff of the Prosecutor General's Office, KNB and RoK Ministry of Internal Affairs.
January 8 2014, 17:31