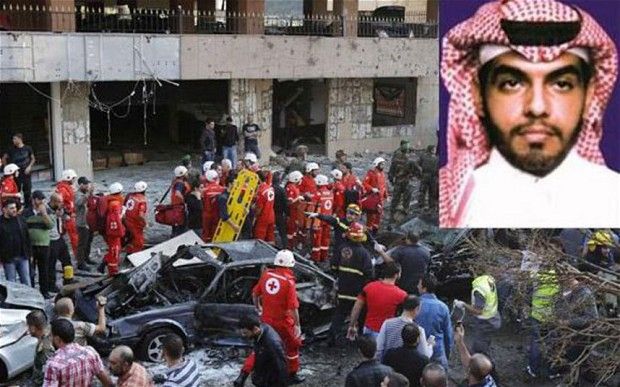 Majid al-Majid was the suspected head of the Abdullah Azzam Brigades, which claimed responsibility for the November attack on the Iranian embassy in Beirut Leader of the Abdullah Azzam Brigades behind several attacks across Middle East has been found dead after what security sources say was kidney failure, telegraph.co.uk reports.
The wanted leader of an al-Qaeda-linked group has died in custody in Lebanon days after his arrest over the bombing of the Iranian embassy in Beirut.
Majid al-Majid was believed to be the head of the Abdullah Azzam Brigades, which claimed responsibility for the attack in the capital in November that killed 25 people.
One of Lebanon's most high-profile catches, Majid was thought to have masterminded a number of other attacks in the region and was on Saudi Arabia's most-wanted terrorists list.
According to an unnamed Lebanese army general he had been suffering from kidney failure and went into a coma on Friday. He was taken to a military hospital in Beirut, where he underwent dialesis but later died.
Majid, a Saudi citizen and a Sunni Muslim, was detained by Lebanese authorities late last month and had been held at a secret location.
It was only on Friday they confirmed his arrest after a DNA test.
According to Fars, an Iranian news agency, Saudi Arabia had offered to pay $3bn (£1.8bn) to the Lebanese government in return for the extradition.
Sunni radicals and Shia Hizbollah has engaged for months in a tit-for-tat killings, leading to a spate of bomb attacks, the latest of which was on Thursday, when four were killed in a Hizbullah stronghold in south Beirut.
Days earlier Mohammad Chatah, Lebanon's former finance minister and outspoken critic of Syrian president Bashar al-Assad, was killed in the one of the most powerful explosions to hit central Beirut in recent years.
A Salafist cleric close to the Brigades warned in the aftermath of the Iranian embassy bombing that attacks would continue in Lebanon until Iranian and Hizbollah forces stopped fighting alongside the Assad regime in Syria.
The Abdullah Azzam Brigades, which is named after al-Qaeda's co-founder and the mentor of Osama Bin Laden, is believed to be behind a number of attacks, including a suicide bomb on a Japanese oil tanker in the Gulf in August 2010.
The group has threatened attacks on Western targets in the Middle East, as well as calling for the overthrow of the Saudi government.
Since June 2012 it has been led by Majid.
The US State Department designated the group a foreign terrorist organisation in 2012, freezing any assets it holds in the United States and banning Americans from doing business with the group.
January 5 2014, 15:34