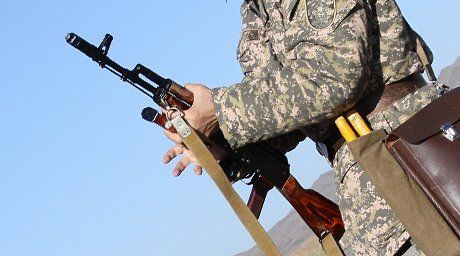 Yesterday, on October 17, a sergeant frontier guard wounded his fellow soldier with AK-74 automatic weapon. The accident occured at "Eurasia" frontier post in the vicinity of "Ak Zhaik" nature reserve while the guards were patrolling the frontier zone as part of reconnaissance and raid group.
According to the data provided by Major Ruslan ALMAKHANOV, the deputy military prosecutor of the Western Region, at approximately 14:30 hrs a sergeant contractor named R.C. of the military unit #2016 of the National Security Committee (NSC) Border Services discharged the weapon and "carelessly made an accidental shot and wounded a junior sergeant contractor N.U. of the same military unit. The injured soldier was taken to the Atyrau oblast hospital".
Doctors identified "penetrating bullet wound in the lower third of left hip and bullet tangential wound in the lower third of right hip". Currently, after operation, the health condition of the soldier can be evaluated "as average stable".
The chief physician of the oblast hospital Murat KULBASSOV:
- Yesterday, in the afternoon, a frontier guard with a penetrating bullet wound in soft tissues of his hips was brought to the hospital. The condition of the wounded is normal. He will probably spend a week in the hospital and then be released.
On the same day, this fact was registered at the RoK NSC 7th department of the military police and preliminary investigation is ongoing at the moment.
By Zulfiya BAINEKEYEVA
October 19 2012, 09:16