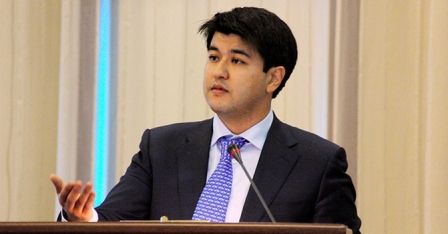 Kuandyk Bishimbayev, deputy head of sovereign wealth fund Samruk-Kazyna Oct 18 (Reuters) - Kazakhstan plans to sell up to 10 percent of its state grid KEGOC in an initial public offering in the second quarter of next year and is also considering issuing international bonds in 2013, senior government officials said on Thursday.
The KEGOC sale would be one of the first in the oil-producer's "People's IPO" programme. Kazakhstan hopes to invigorate the small local stock market and raise around $500 million from a first round of IPOs.
"With KEGOC we have solved all major problems, the company is ready," Kuandyk Bishimbayev, deputy head of sovereign wealth fund Samurk-Kazyna told Reuters on the sidelines of a conference.
"It's planned now for the second quarter of 2013 and I think it's going to happen."
Bishimbayev said the government planned to sell up to 10 percent of state-owned assets under the IPO programme.
Kazakhstanhad planned to launch the programme by the third quarter of this year, but it postponed the first listings because of the volatile global market.
Bishimbayev also said the books would be opened on an IPO for KazTransOil in the first five days of November.
He said a raft of companies could be sold next year, including Kazmortransport, Samruk-Energo and Kaztransgaz.
"They are on the agenda but the decision has not been made," he said, adding that he was confident this would go ahead but a number of issues needed to be solved first.
Kazakhstanis also considering issuing Eurobonds next year following a recent restructuring deal of the debt of sovereign wealth fund-owned bank BTA, deputy prime minister Kairat Kelimbetov told the conference.
"The BTA story will soon be over and next year we, the government of Kazakhstan, will consider issuing bonds of the ministry of finance," Kelimbetov said.
"Even though we have a deficit of less than 2 percent of GDP, we must come back to the market to establish a benchmark."
The country has a huge infrastructure programme, Kelimbetov added.
He told Reuters Kazakhstan's 2012 growth forecast had been cut to 5.4 percent from 5.8 percent in the country's budget plan, which was now going through parliament.
Reuters
October 18 2012, 20:02