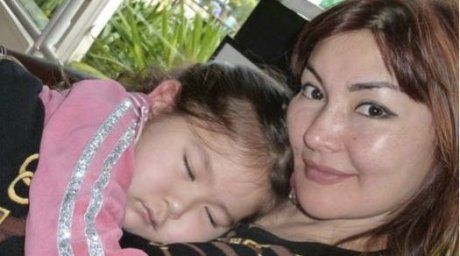 Alma Shalabayeva with her daughter. Photo courtesy of uralskweek.kzAlma Shalabayeva, the wife of Mukhtar Ablyazov, the ex head of the Kazakhstan-based BTA Bank, will be issued a visa to enter Italy, RIA Novosti reports. Italy's Foreign Minister Emma Bonino had a telephone talk with Mrs. Shalabayava to inform the latter that she would be issued a Shengen visa to enter the EU, tengrinews reports.
In the telephone talk the Minister expressed her satisfaction with the decision taken by the Kazakhstan's authorities to allow Mrs. Shalabayeva to leave Kazakhstan, adding that the Italian Embassy in Astana, Kazakhstan's capital city, will be closely monitoring her and her daughter's departure for Italy.

"Our charge d'affaires left for Almaty December 23 to accompany Mrs. Shalabayeva to Astana so that she could have a visa issued to get back to Italy (…)the returned freedom of movement to Mrs. Shalabayeva is putting an end to the chain of events starting from the decision to deport her from Italy July 12", the Italian Foreign Ministry's Press Service quotes the Minister as saying.

The deportation sparked a scandal in Italy, with the Interior Minister Angelino Alfano facing a vote of non-confidence in the Senate.

47-year-old Alma Shalabayeva had been living in Italy, carrying a reportedly invalid passport issued by the Central African Republic. Along with her minor daughter she was deported to Kazakhstan late May. Her husband Mukhtar Ablyazov was detained July 31 in the south of France at the request of Ukraine. He is also wanted by Russia. In Kazakhstan he is being charged with embezzlement of over $6 billion dollars from the BTA Bank and other financial frauds. He is facing a 13-year-long term and confiscation of property.

Mrs. Shalabayeva is a subject of a separate case wherein she is being charged with being involved in having fake Kazakhstan passports issued for her husbands' relatives.

December 25 2013, 16:17