By Zulfiya Bainekeeva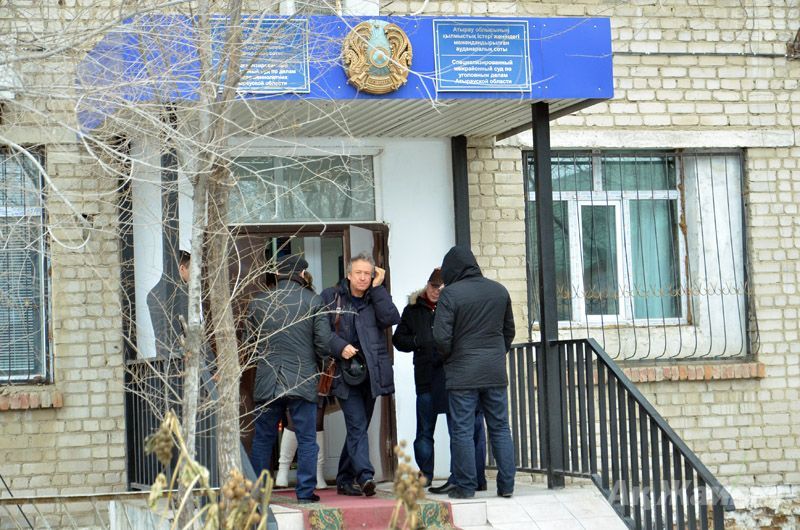 Today, Dec 24, at 10am the specialized inter-district criminal court of Atyrau Oblast started the preliminary hearing of the case concerning the organized criminal group of the former governor of Atyrau Oblast Bergei Ryskaliev. There were 22 persons on trial.
The session of the court was private. Security measures undertaken were quite serious: no car parking in front of the court building and the territory was guarded by police squads.
The majority of defendants are under the house arrest. They arrived to court independently. Among them are former Atyrau Oblast Deputy Governors Askar Abdirov, Bolat Daukenov, Deputy Head of Construction Administration of Atyrau Oblast Ibragim Amirov, the Head of Construction Department Nurlan Kenzhebekov, the Head of Power Department Baurzhan Dzhaisanov and others. In total, 22 persons are accused as members of an organized criminal group created by Ryskaliev. Another 11 people are wanted internationally: Ryskaliev himself, his elder brother – the deputy of Mazhilis of RoK Parliament Amanzhan Ryskali, their close relatives and other people close to their family.
The defence was represented by 20 lawyers. We keep in touch with several of the defenders – they consider this trial as unprecedented. More than 10 lawyers and their clients declared their mistrust to all the judges of Atyrau Oblast and filed objections. This information has been confirmed by the lawyer Nurlan Zholbolov:
– This is true, but the petition was rejected. Lawyers filed a repeated petition, also filing objection to public prosecutors. The announcement on all these issues will be made in the afternoon. There are also other petitions which were not solved yet.
We have information that one of the lawyers' grounds for objection to all judiciary establishment of Atyrau Oblast was the fact that the name of the acting chairman of regional court Mukhtar Smagulov appeared in the materials of pre-investigation check. Due to this, the defense party is afraid of undesirable impact on the outcome of the case.
Secondly, the lawyers mentioned that the current government administration of Atyrau Oblast by its numerous public statements is influencing the outcome of the case, by forming a public opinion.
– Such arguments were, indeed, voiced today during the session.
–Doubts were also voiced as to the objectivity of the Atyrau Court whose representatives are obliged to some of the accused - former officials - by received real estates, land plots and other benefits.
– Yes, such opinion was also expressed by the lawyers.
Apparently, the preliminary hearing won't be limited to one meeting. One-hour break was declared at 13.30, the session continued in the second half of the day.
Photo: Kanat Eleuov
December 24 2013, 18:21