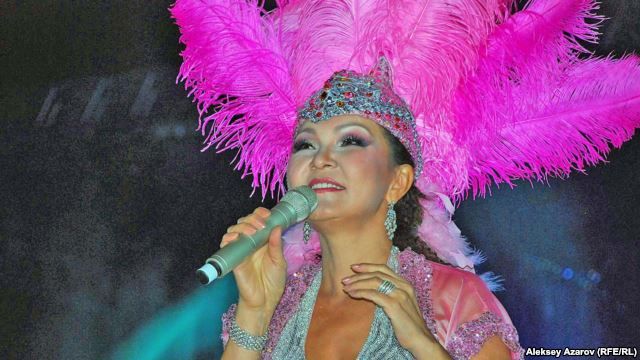 Kazakh lawmaker and amateur opera singer Darigha NazarbaevaDarigha Nazarbaeva, the Kazakh president's daughter, is in hot water for calling disabled children "freaks", rferl.org reports.

Nazarbaeva's proposal to discourage teenage pregnancies by organizing school visits to orphanages for children with disabilities has sparked an angry backlash online, where a video of her remarks is making the rounds.

She was speaking at a meeting of the parliamentary committee for social and cultural development on December 10, as the world marked International Human Rights Day.

"I think that from time to time children should be taken for excursions to orphanages, to institutions for disabled children, so that they see the results of an unreasoned, premature sex life," she told her fellow parliamentarians. "Show them these children, these disabled freaks, let them look at them."
Nazarbaeva has a long track record of eyebrow-raising outbursts, including a December 9 statement that the raft of educational reforms in Kazakhstan made her "sick."

But her comment on orphans with disabilities has caused particular dismay.

"Daughters and sons of authoritarian leaders and their entourage are freaks -- vile, immoral filth," was one YouTube viewer's response.

Kazakh journalist Sapa Mekebaev suggested, tongue in cheek, that Nazarbaev's official duties, by preventing him from taking an active part in his daughter's upbringing, may be responsible for her insensitivity.

"But when children reach 50 years of age, they should understand that it's wrong to let their fathers down," he wrote on his Facebook page.

One Internet user criticized Nazarbaeva for offering to organize "freak shows" at the expense of disabled children and stressed that disabilities have nothing to do with the mother's age.

Another user advised Nazarbaeva to take lawmakers on an excursion to the site where a rocket crashed near the Kazakh city of Baikonur on July 2, releasing a cloud of highly toxic orange fumes.

"That's where the mutation of innocent people comes from," he wrote.

There have also been suggestions that the president's daughter might have been drunk when she made the remarks.

Some, however, stood up for Nazarbaeva, saying she had probably not meant to be offensive and suggested that her comments had been misunderstood.

Nazarbaeva herself has remained tight-lipped on the issue since the controversy broke out.
December 24 2013, 12:14