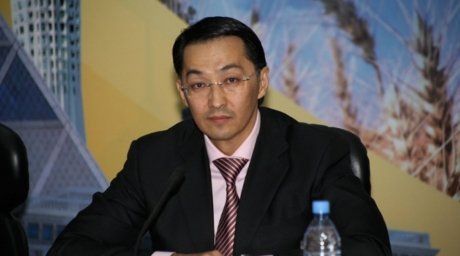 Muslim Umiryaev. Credit:PrimeMinister.kzA go-between who passed a bribe to the RoK Vice-Minister of Agriculture Muslim Umiryaev, had millions of US dollars on his bank accounts, reported a source familiar with the matter in the State Office of Public Prosecutor.
"The public servant held tenders through few intermediaries. The financial police picked up an intermediary, who was engaged in the organization of government purchases in the Ministry of Agriculture for a long time. This go-between discussed his actions using code words by phone and SMS. These encryptions became known to police investigators.
When after an award of a tender to a certain company the vice-minister received the bribe in the amount of 100 000 dollars, he and later his go-between were detained on Saturday, - the interlocutor said.
The source said that the go-between appeared to be the close relative of Vice-Minister's wife.
As it was reported earlier by KazTag, in Astana on suspicion in bribery the Vice-Minister of Agriculture Muslim Umiryaev was detained for a bribe in the amount of 100 000 dollars "for the positive decision on government purchases", - said the source to KazTag on Sunday.
39-year-old Umiryaev worked as the director general of the international fund "Russian Farms", the finance director of "Southern Center" LLP in Almaty, the director of "Management of Office Buildings of Presidential Administration and Government", Deputy Manager of RoK President's Affairs. Umiryaev was appointed as the Vice-Minister of Agriculture in September, 2011.
December 23 2013, 13:15