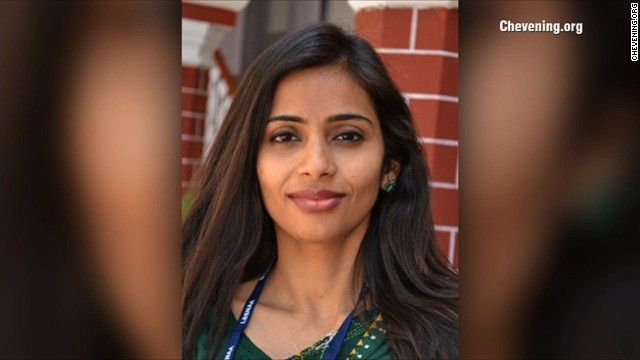 Devyani KhobragadeThe arrest and detention of an Indian consular official in New York on visa fraud charges has created a diplomatic uproar with punitive steps taken against State Department officials in New Delhi, cnn reports.
Devyani Khobragade, India's deputy consul general, was arrested on Thursday as she dropped her daughter off at school. Court papers allege she submitted false documents to obtain a work visa for her female housekeeper, paying her less than the amount stated.
Khobragade, 39, was held in a cell with other females and strip-searched in New York following her arrest, the U.S. Marshals Service said, noting such treatment was standard procedure in her case and that no policies were violated. She eventually posted bond and was released.
The case has set off outrage in India about Khobragade's treatment by U.S. law enforcement officials, but it has also drawn concern from human rights advocates about her alleged underpaying of her housekeeper.
The Indian government has described the diplomat's treatment by the U.S. justice system as barbaric.
"We are shocked and appalled at the manner in which she has been humiliated by the US authorities," Indian external affairs spokesman Syed Akbaruddin said last week. He called the treatment of Khobragade "absolutely unacceptable."
Barriers removed from embassy
Indian officials have summoned U.S. Ambassador Nancy Powell, stripped American diplomats of identification cards that give them diplomatic benefits, and removed security barriers outside the U.S. embassy in New Delhi.
Several senior government ministers and politicians snubbed a visiting congressional delegation as well.
"I think we have taken a tough stand. We do protect our foreign service officers and any other Indian that is unfairly treated outside," said Deputy Foreign Minister Preneet Kaur. "And I think in the strongest diplomatic way we can take it up, it is being done."
The State Department sought to prevent tensions from escalating further, while admonishing the Indian government on the punitive measures.
Marie Harf, a State Department spokeswoman, said appropriate procedures appear to have been followed by the Diplomatic Security agents who arrested Khobragade. She said conditions surrounding her processing by U.S. Marshals would be examined.
"We understand that this is a sensitive issue for many in India," Harf said. "Accordingly, we are looking into the intake procedures surrounding this arrest to ensure that all appropriate procedures were followed and every opportunity for courtesy was extended."
She said the United States and India "enjoy a broad and deep friendship and this isolated episode is not indicative of the close and mutually respectful ties we share."
'Isolated incident'
But Harf said Khobragade's arrest should not be cause for a diplomatic tit-for-tat with reciprocal measures against U.S. diplomats.
"This limited episode was somebody who was charged with a crime, is a separate and isolated incident," Harf said. "We have conveyed at high levels to the government of India our expectations that India will continue to fulfill all of its obligations under the Vienna Convention."
"The safety and security of our diplomats and consular officers in the field is a top priority," she added. "We'll continue to work with India to ensure that all of our diplomats and consular officers are being afforded full rights and protections."
Harf said that Khobragade enjoys "consular immunity," a limited diplomatic immunity related to her official duties. Under the 1963 Vienna Convention on Consular Relations, consular officials can still be arrested for acts committed outside of official job functions.
Khobragade's lawyer, Daniel Arshack, claims that she is entitled to diplomatic immunity and can't be prosecuted under U.S. law, CNN's Indian sister network IBN reported.
The Marshals Service, which oversaw Khobragade's detention, said in a statement that she was "subject to the same search procedures" as others arrested and "held within the general prisoner population" along with other female defendants in a cell while awaiting court proceedings.
The statement said the service reviewed her treatment and determined that her "intake and detention" were in accordance with its policies.
Concerns about domestic workers
"Despite wide coverage of the case in India, there has been little public outrage or shame that Devyani Khobragade, India's deputy consul general in New York, who has championed women's rights in other settings, allegedly paid her domestic worker a fraction of New York's legal minimum wage," Varia wrote.
"They often face underpayment and long working hours with little hope of redress," she wrote. "Diplomats from many countries who abuse their workers have often used their status to skirt the law."
Case focuses on hourly wage
U.S. prosecutors allege that Khobragade stated in the visa application for her housekeeper that she would pay her at least $9.75 per hour, the New York minimum wage.
But in reality, the prosecutors say, the housekeeper ended up being paid the equivalent of less than $3.31 per hour.
"Foreign nationals brought to the United States to serve as domestic workers are entitled to the same protections against exploitation as those afforded to United States citizens," Manhattan U.S. Attorney Preet Bharara said in a statement last week announcing Khobragade's arrest.
"The false statements and fraud alleged to have occurred here were designed to circumvent those protections so that a visa would issue for a domestic worker who was promised far less than a fair wage," he said. "This type of fraud on the United States and exploitation of an individual will not be tolerated."
Khobragade's father, Uttam, insisted that his daughter is innocent.
"My daughter has not done any wrong," he told IBN on Tuesday.
She has been charged with one count of visa fraud and one count of making false statements, U.S. prosecutors say. The visa fraud charge carries a maximum sentence of ten years in prison; the charge of making false statements has a maximum prison sentence of five years.
Adding extra complexity to the case, the Indian government says Khobragade's housekeeper, who it named as Sangeeta Richard, "absconded" in June.
The Delhi High Court issued an injunction in September seeking to stop Richard from "instituting any actions or proceedings against Dr Khobragade outside India on the terms or conditions of her employment," the Indian embassy said in a statement last week.
It said the U.S. government was "requested to locate Ms Richard and facilitate the service of an arrest warrant, issued by the Metropolitan Magistrate of the South District Court in New Delhi."
December 18 2013, 18:16