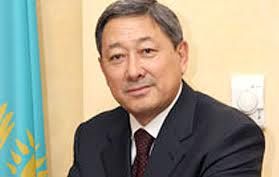 On Aug 15, President Nazarbayev introduced the new governor of Atyrau Oblast Baktykozha IZMUKHAMBETOV.
B. Izmukhambetov was born in 1948 in Atyrau Oblast to a family of teacher. The graduate of Ufa Petroleum Institute he started his career in Embaneft as a driller. His bio includes various jobs in the Republican Scientific Research Petroleum Institute. In 1983-1987 he was expatriated to Yemen. He headed Atyrau Research and Methodological Expedition. In 1991-1993 he held various managerial positions in the Ministry of Geology.
He's been general director of KazakhTurkMunay JV, KazMunayTeniz, managing director at KMG, First Deputy Minister of Energy and Mineral Resources then he headed the ministry. In 2007-2012 he governed the West Kazakhstan Oblast. Starting Jan 20, 2012 he has been Vice-Speaker of Mazhilis.
- Bergey Ryskaliyev will be assigned to another position, said President.
By Laura SULEIMENOVA
August 16 2012, 19:44