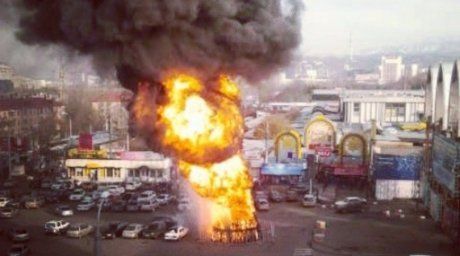 A large Christmas Tree in front of Atankent exhibition center at the crossing of Temiryazyev and Auezov streets in Almaty city was on fire, tengrinews reports.
"Yes, we have received a message that the Christmas Tree is on fire near Atankent center. We don't have any confirmation yet, because the firefighters haven't got to the accident site yet," Almaty's Emergency Situations Department commented at first.

Shortly after the firefighting service of Almaty's Emergency Situations Department reported that the fire was completely extinguished at 3:31 p.m.. "The artificial Christmas Tree near the entrance of Atakent building was in flames. Several cars parked nearby were damaged. Two or three cars, according to the preliminary information. The police has arrived to the accident site. The fire has been liquidated. The total area of the fire made 10 square meters," fire protection service of Almaty's Emergency Situations Department said.

13 firefighters, 2 fire engines and 1 special vehicle were involved in the firefighting operation.

A witness's video:
This is not the first case of a Christmas Tree being set on fire. Another one was buning at the Astana Square in Aktau city on the New Year's Eve last year.

December 11 2013, 16:38