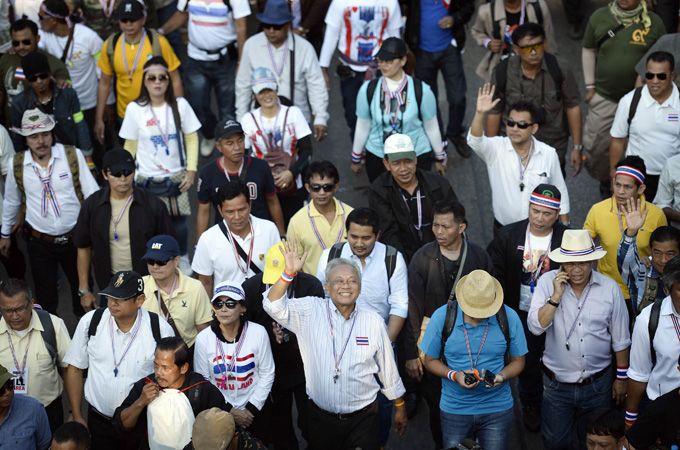 Protest leader Suthep, center, and supporters vowed to swarm Bangkok streets in "final showdown" [Reuters]Thai Prime Minister Yingluck Shinawatra has said she will dissolve parliament and hold an election "as soon as possible" following a wave of anti-government protests in Bangkok.
"At this stage, when there are many people opposed to the government from many groups, the best way is to give back the power to the Thai people and hold an election.
"So the Thai people will decide," Yingluck said in a televised address as thousands of protesters resumed demonstrations across Bangkok.
Al Jazeera's Scott Heidler says that the king will have to approve the move.
"We expect elections to take place around the end of January or the beginning of February," he reported from the Thai capital.
The leader of the protest movement that has been battling to oust Prime Minister Yingluck Shinawatra said he would not end his demonstrations despite her dissolving of parliament on Monday and a promise of an early general election.
"Today we will continue our march to Government House. We have not yet reached our goal. The dissolving of parliament is not our aim," Suthep Thaugsuban told Reuters.
He has repeatedly said he did not want a new election but wanted a vaguely defined, unelected "people's council" to run the country.
Speaking from Bangkok, Al Jazeera's Wayne Hay said "the opposition wants the government gone, not the resignation of Yingluck, they want the whole Shinawatra family out of politics."
"Her brother Thaksin is accused of corruption, therefore people believe his family, including his sister Yingluck is corrupt. Even if she resigns and calls elections the opposition believes the government will simply be serving the interests of Thaksin Shinawatra again," he added.
'Final showdown'
Yingluck's announcement comes as Thailand's capital braced for another wave of unrest as protesters trying to overthrow the country's democratically elected government vowed to swarm Bangkok's streets for a "final showdown".
The demonstrations on Monday come one day after the main opposition party resigned from parliament en masse, exacerbating the nation's deep political divide.
Suthep called on supporters to stay peaceful, but many fear the day could end violently when demonstrators converge from nine locations on Yingluck's office at Government House.
More than 60 Thai and international schools in Bangkok have closed as a precaution.
Thailand has been plagued by political turmoil since the army toppled Prime Minister Yingluck Shinawatra's brother Thaksin in a 2006 coup.
In broad terms, the conflict pits the Thai elite and the educated middle-class against Thaksin's power base in the countryside, which benefited from populist policies designed to win over the rural poor.
"We will rise up. We will walk on every street in the country. We will not be going home again," said Suthep, whose supporters have occupied the Finance Ministry and part of a vast government complex for more than a week.
"The people who will be going home empty-handed are those in the Thaksin regime."
Despite calls for calm, a group of hooded and masked men crept in the dark Sunday night toward a police post at Government House and attacked it with slingshots loaded with nails and sharp metal projectiles, according to Police Major General Piya Uthayo. Police did not respond, and the assailants retreated, he said. There were no injuries.
Since the latest unrest began last month, at least five people have been killed and at least 289 injured. Violence ended suddenly last week as both sides paused to celebrate the birthday of the nation's revered king, who turned 86 on Thursday.
The crisis boiled over after Yingluck's ruling party tried to ram a controversial amnesty bill through the legislature. Critics say it was designed mainly to bring back Thaksin, who lives in self-imposed exile in Dubai to avoid jail time for a corruption conviction he says was politically motivated.
'Illegitimate' government
Abhisit Vejjajiva, the leader of the Democrat party and a former premier, said Yingluck's government had become "illegitimate" since then, and his party had no choice but to pull out of the lower house.
The Democrats held 153 of the 500 seats in the legislative body, according to the latest figures on their website. Abhisit said the resignations were effective immediately.
"The solution to our current problems needs to start with the showing of responsibility," Abhisit said. "The prime minister has never showed any responsibility or conscience."
Democrat spokesman Chavanond Intarakomalyasut told The Associated Press that the legislature was "no longer accepted by the people."
The minority Democrats - who are closely allied with the protesters - have not won an election since 1992, and some of their leaders appear to have given up on electoral politics as a result.
The protesters are demanding a non-elected people's council lead the country instead.
Yingluck's embattled government, by contrast, came to power in a landslide vote in 2011 that observers said was free and fair.
December 9 2013, 10:00