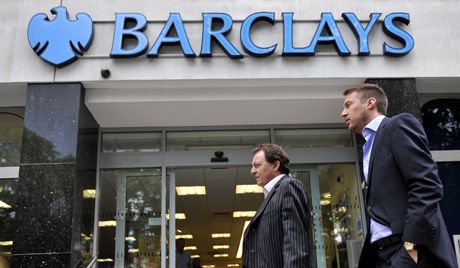 @EPAA group of leading European and American banks will be fined a record 1.7 billion euros ($2.3 billion) by the European Commission for the rigging of interest-rate benchmarks, a source familiar with the matter told Reuters on Wednesday. The banks to be fined are Citigroup, Deutsche Bank, Royal Bank of Scotland, JPMorgan, Barclays and Societe Generale, sources have said.
"The total fine is 1.7 billion euros," the person said. If the figure is upheld, it would be the highest antitrust penalty ever imposed by the Commission, the EU's competition regulator.
The benchmarks involved are the London interbank offered rate Libor, the Tokyo interbank offered rate and the euro area equivalents. They are used to price hundreds of trillions of dollars in assets ranging from mortgages to derivatives.
German Deutsche Bank, involved in rigging both rates, was fined a total of 725 million euros, and French Societe Generale was fined 446 million euros for manipulating the European Euribor rate.
British bank RBS, already mired in controversy, was fined 391 million euros for involvement in cartels which rigged both rates.
The European Commission's anti-trust authorities had never previously imposed such big fines overall, Competition Commissioner Joaquin Almunia told a press conference.
In total, four financial institutions were involved in a cartel which rigged the Euribor rate and six in a cartel which manipulated the Tibor rate.
In the Euribor case, British bank Barclays benefited from immunity and will not pay a fine because it revealed the existence of the rigging to the Commission.
Deutsche Bank was however fined 466 million euros, and Societe Generale and RBS were fined 131 million euros in the Euribor case.
The fines on these three banks were reduced by 10 percent because the companies cooperated with the investigation.
Investigations are continuing concerning French bank Credit Agricole, HSBC of Britain and US bank JPMorgan.
In the Tibor case, Swiss bank UBS avoided a fine because it revealed rate rigging to the Commission.
Deutsche Bank was fined 259 million euros, RBS 260 million euros, JPMorgan 80 million euros, US bank Citigroup 70 million euros and British broker RP Martin 247,000 euros in that case.
The investigations and fines come after a separate scandal broke over the rigging of the London Libor rate which is used as a benchmark for many types of financial contracts around the world.
The Euribor, Tibor and Libor interest rates are calculated slightly differently but fulfil a vital function as a reference for the rates which banks are charging to lend each other.
Contracts covering a vast range of financial instruments and vast amounts of money depend in part on the interest rates indicated by Euribor, Tibor, and Libor.
December 4 2013, 16:59